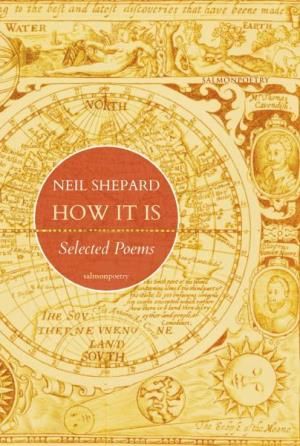 How It Is: Selected Poems
by Neil Shepard
Salmon Poetry, 2018
Genre: Poetry
Reviewed by: Claire Matturro
Reading Neil Shepard's How It Is: Selected Poems (Salmon Poetry 2018) is akin to a meditative walk through the lush inner terrain of a man who sees and senses all too much. Vivid, evocative, and varied, the individual poems cross time lines and geographic divides to form a compelling whole. The aggregate impact shows Shepard is not only well traveled, but also fascinated by just about everything—as a great poet should be.
The poems in How It Is include works previously published in books ranging from 1993's Scavenging the Country for a Heartbeat to Shepard's most recent 2015 Hominid Up. Given this span, How It Is offers readers a quarter of a century of Shepard's writings to be savored.
And savored these poems should be. Shepard is an exceptional and emphatic writer, with a sharp eye for the telling detail, a deft hand at conveying truth, and a musician's gift for hearing the melody in words. His images and language can startle our senses and wake us to mystery, as he does in "The Bell Bird."
I smell lemon everywhere,
lemon-air and lemon-earth and lemon-trees
and long-leafed eucalyptus. When I arrive
at the canyon's rim and peer down a thousand
feet to the dusk-silent canopy of trees,
suddenly the Bell Bird sings,
its song almost human, a glissando
across the empty space. It wavers
on the edge of sunset, circling
along the rim or far down
in the gloom or far above
in the temperate air—it's impossible
to tell where the song comes from.
While some reviewers have compared him to Robert Frost, perhaps because of shared geography as well as their quiet genius, Shepard stands on his own as a valued and singular voice. His rhythmic phrases and the sheer grace of his poetic acumen mark him as an American treasure. He also appears to be having fun with his words, as illustrated in the opening lines from "Oh! on an April Morning."
Oh! on an April Morning
I'm ready to murder the flowers.
The all-night word-fest left me
in some indeterminate schwa
of sleeplessness, neither long on yawns
nor persnickety and testy,
but stunned, stoned, seemingly
systematically taken apart
by human sounds—
While the collection offers richly textured works of homage, personal insights, and social commentary as well as a poetic travel guide, Shepard truly shines in his nature poems. A Vermonter, Shepard divides his time between New York City and his native state. Yet his lush "Atchafalaya November," set in a Louisiana swamp, is as true and vivid as if he had been born and raised a Cajun.
We quiet the motor,
loop rope around a cypress stump,
and drift in the pirogue.
Snowy egrets circle out at dawn,
widening the compass of the known,
…
Soon we must give in
to the butterflies, like roses pinned to darkness,
landing on your hair and mine, give in
to the small tongues and tendrils
of the world that prey on us
with such tenderness.
Then we will look North
and hear it coming,
and not be afraid.
Shepard's poems not only traverse from Atchafalaya to Corfu and beyond, but they range from when he was "twenty, ripped jeans, rucksack, cervezas and chasers" to being "of late middle age." The daughter that was "centered in a cradle" in "Birth Announcement" is now "singing Madonna in the shower." Thus, in this fine collection, readers are invited to join Shepard in his journey and in the maturation of his vision. Thank you, Neil Shepard for inviting us along. It's a great, glorious trip to take.