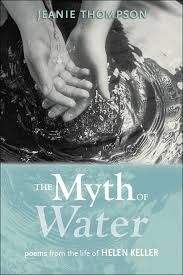 The Myth of Water
by Jeanie Thompson
University of Alabama Press, 2016
Paperback $19.99
Genre: Poetry
Reviewed by Melissa Dickson Jackson
With her recent collection, Jeanie Thompson has attempted something both ambitious and historic: to bring alive the interior monologues and musings of an international hero, Helen Keller.
In The Myth of Water, the complicated thoughts of an ordinary woman thrust into extraordinary circumstances amplify and resound as Thompson wrestles with her own inevitable formal challenges. How, for instance, does one wield the unique tools of poetry when one's speaker can neither see nor hear. All the luscious skills of sound, all the descriptive and imagistic prowess of the poet at labor must be subsumed by an integrity to subject and cause. Fortunately for Thompson, Keller, with her remarkable capacity to shape language, often operates as a co-creator through her letters, journals, and published works that sometimes serve as found poems or found lines, and more often give Thompson unique insight to Keller's private voice.
Indeed, readers find here a Helen Keller who is not whole, crystallized and enrobed in the cultural myth that glorifies and, perhaps, diminishes her, but one who is broken by a keen self-awareness, tragic losses, loneliness, doubt, and fear. Thompson's splendid chronicle of Keller's life brings the mythic Alabama native down to earth while reminding readers that her journey was even more complicated and angst-ridden then they might have realized.
Thompson's exemplary research and commitment to a poetic but fact-based narrative frame the document. She begins with a brief essay describing the project and then laboriously cites the facts and events of Keller's life with a seven-page detailed chronology. Readers are frequently reminded that the poems emerge from a life closely studied as Thompson also includes notes at the bottom of several poems documenting and explaining the poems' origin stories. Thompson has made every effort to put Keller first with a reverential and respectful thoroughness that sometimes threatens to interrupt the narrative and poetic flow. It is a sacrifice that readers are compelled to respect.
While imagined and fictionalized, the poems strive to create a genuine presence reflective of Keller. Just as the speaker in "Prologue" determines not to "overtax [her] listeners," Thompson seems determined not to over-poeticize her subject. The voice of Keller remains pragmatic, sensible, compassionate, and careful. She knows doubt, but it's not simply the existential doubt of navel-gazing elites. It's also the doubt that speaks to a fear of failure to serve, failure to communicate, or failure to fulfill one's essential mission. And there is also a yearning to find liberation from the bonds of her disabilities, her gender, her era, her earthliness. In "At Wrentham," the speaker bemoans a world that "scatters like leaves/torn by storm from the trees" but "believe[s] a woman could be free at Wrentham." Just as Keller emerges from the chaos of her early silence, Thompson's speaker emerges from the chaos of her body's betrayal, from the desolation of a lover's abandonment, and from the recurring motif of mortality.
It is, however, the death of Anne Sullivan Macy that most grieves Thompson's Keller. In "First Entry, After Midnight," the speaker confesses a "sorrow" that "cannot be/ shaped into a metaphor as [she] tries cheating sharp grief." By the end of the poem "[w]ords crumble into chaotic sticks. That place before a word taught" Keller "to know" Sullivan, and through Sullivan to know a world she loved deeply and people she internalized through her own fingertips and theirs. Sullivan is not simply her mentor and teacher but the figure that brought language, meaning, knowledge, and humanity to a child who had only known an inner primal silence before Sullivan's diligent attentions. In the poems that follow, readers find an emergent Keller essaying into the world with her own words "explod[ing]/like river birds."
If Thompson's task was to "give a sense of Keller's simple humanity and great heart," as she states in the introduction, she's overshot the mark with a document that serves to re-examine the life of an extraordinary person while creatively expanding the miraculous and globally influential persona of Helen Keller. Thompson's poems never overtake Keller, but respectfully underscore and elevate the humanity of a woman too-often lost in myth.
Melissa Dickson is a poet and mother of four. Her work has appeared in Shenandoah, North American Review, Southern Humanities Review, Literary Mama, and Southern Women's Review. She holds an MFA in Visual Arts from SVA and an MFA in poetry from Converse College and teaches at the University of West Georgia.