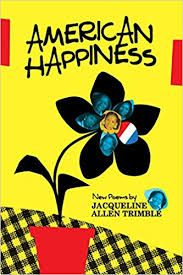 American Happiness
by Jacqueline Trimble
New South Books, 2016
Paperback $21.94, Kindle Edition $9.99
Genre: Poetry
Reviewed by Foster Dickson
The experience of Jacqueline Allen Trimble's recent poetry collection, American Happiness, begins not with the poems, nor with the prose preface, not even with the table of contents. It begins with that bright yellow cover, headed by its handwriting-font scrawl of the title and below its elementary-style graphics that mimic cut-outs: on a gingham tablecloth, we have a red flowerpot supporting a black plant with a large black bloom whose blue interior petals show the author in various stages of youth. However, I got the sense, the first time I saw it, that the stark and unsmiling little girl in the flower's yellow center was the one I was not to ignore.
And it is that stoic-looking who we first meet, in Trimble's preface: "How My Mother Taught Me to Write Poems." In it, Trimble describes how her mother, "who was actually [her] stepmother," raised her in the late 1960s with a strong sense of both civil rights and irony— both of which appear as running themes in the collection. By juxtaposing social justice with sarcasm, Trimble makes her point that the idea of happiness, that much sought-after ephemera, might have as many definitions as there are people who seek it.
American Happiness is divided into three sections of relatively equal length, with twelve, ten, and twelve poems, respectively, making for a slim volume to hold in one's hands. Ironically, we begin with "Closure," whose opening poem, "Everybody in America Hate the South," declares to us the poet's comprehension of the complex scenario in our native region, while also making sure that we understand her sense of humor about the whole thing, by juxtaposing the "ghosts of lunched boys" with "crazy Aunt Hazel who runs naked / through a house full of company shouting / all the foolish things we think but can't say." The section continues with equal dimension, reminiscing on the death of her father and the passing of time, while also wondering out loud about our abilities and inabilities in "Did Jean Paul Sartre Ever Ask Simone de Beauvoir to Go to the Winn Dixie?" Trimble navigates the surly world of "Church Women" and deciphers the difficult emotions in an enigmatic image in "Family Photograph: A Conjugation."
In section two, "The Geography of Passion," the tone . . . shifts slightly, not into light-ness but perhaps further into humor, further into the longest-known realities of life, further into what we seek by going further into what we struggle against. (After all, the word from which we derive our English word passion means "to suffer.") Here, we start with Cinderella entering a third, comfortable marriage and soon we glimpse Ingmar Bergman in Cleveland, Ohio. Following those culturally rich, allusive poems are more, as in "So Much That Fascinates Is the Blood," in which the fate of Julius Caesar is likened to that of the here-nameless Michael Donald, a 1981 lynching victim in Mobile, Alabama. Trimble reaches into our human geography, into those spiritual places that we only dare to finger gingerly. In the Langston Hughes-like rumination, "A Woman Explains the World to Her Children," she writes:
The world does not owe you
indigo, the quiet charm
of purple love. Lie down and see.
Manna will not fall
to fill your anxious bellow.
and ends with: "Go on and sing while you're at it. / Might as well."
In the final section, Jacqueline Allen Trimble addresses present and recent past. We recognize the subjects these sometimes-long titles, which reference the Klan and Selma, No Child Left Behind, even Barbie. Here, Trimble shows us to ourselves, and it is impossible to be pleased or flattered. With a wry sense of humor, the poet's deft sense of nuance and irony puts together a jagged portrait of "American Happiness," using media clips, modern slang, and current events as her raw materials. We see the mistreatment of African Americans and of women then and now, and we survey the cultural significance of oft-played imagery that has resulted in the racial profiling of young black men, a gas-station shooting prompted by loud music, the violent abuse of black students in schools, and re-imagined Barbie dolls too buxom for their packaging. These poems drop the pretense of politeness and say what is necessary to say.
The lack of heft in the physical book, American Happiness, may belie its depth of content. As with all good poetry, what is held within it supersedes the physical object. Jacqueline Allen Trimble's book is well worth the time it takes to engage the poems in side. I read once that "travel is the only thing you buy that makes you richer." I disagree. Poems like Trimble's do that, too.
Foster Dickson is a writer, editor, and teacher who lives in Montgomery, Alabama. Foster's work has centered mainly on subjects related to the American South, the arts & humanities, education, and social justice. His most recent book, Children of the Changing South, was published by McFarland & Co. in 2011. This edited collection (with Foster's introduction) contains memoirs by eighteen writers and historians who grew up in the South during and after the civil rights movement. The Alabama Writers Forum's review of the book stated, "Besides being a great read, this collection provides a valuable new perspective on Southern history. "His book about the Whitehurst Case, a police-shooting controversy in Montgomery, Alabama in the mid-1970s, is forthcoming from NewSouth Books in the summer of 2018.