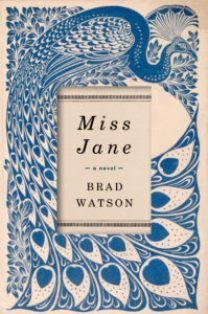 by Brad Watson
W. W. Norton, 2016
$25.95, Hardcover
Genre: Fiction
Reviewed by Don Noble
It was 1996 when Brad Watson published Last Days of the Dog-Men, which won the Sue Kaufman Award; 2002 for his novel, The Heaven of Mercury, runner-up for the National Book Award; and 2010 for the story collection Aliens in the Prime of their Lives, a finalist for the 2011 PEN/Faulkner Award for Fiction—an average of seven years between books. William Styron's books, such as The Confessions of Nat Turner and Sophie's Choice, are spaced about the same way. Although this is not how a writer becomes a household name, Watson doesn't let them go until they are right. There should be more of this.
To begin with some generalities. Miss Jane is what is now called a quiet novel. There are no vampires, mutant armies, swords, or dragons. Also, as opposed to the work of many younger novelists, Watson's plots are not complicated, labyrinthine knots that enclose deep secrets, extending over several generations, over three continents, and perhaps even time or space travel.
Miss Jane is the story, beautifully told, of one small but in its way unusual and impressive life.
Miss Jane Chisholm is born eight miles north of Mercury—in Watsonland, that is, Hattiesburg—in east-central Mississippi in the early days of the twentieth century. Jane was a surprise. Her parents were older, her mother thirty-nine.
The doctor who delivers Jane has some explaining to do. When asked, he tells the father, "A little girl, I believe." She "doesn't have everything she ought to have." To put it plainly, Jane is born without sphincters. She will always be incontinent, in all ways, probably cannot know physical love and probably cannot bear children. There is a perpetual risk of infection and no treatment—medicine or surgical procedure—known. Merely to survive is triumph; Jane thrives. As a little girl, she does her chores, developing a Franciscan relationship to the animals, but does not fail to notice the everyday eroticism of farm life. Sensuous, often alone, she really notices the natural world around her, lingers in the woods and meadows, enjoys the tastes and smells of food.
This is not to say she is feral. Jane is intelligent and civilized. At six, she starts school, fasting , wearing a diaper under her dress, and it almost works, but finally she is too different: she has "a sense of strangeness . . . a gathering of something like sadness in her mind, a heaviness in her chest…a strange self-consciousness, as long as she was around others."
As a teenager, Jane goes to community dances. Although she is "a dark- haired, blue-eyed beauty," she "understood somehow that she was lucky in her special way to love these events without the complicated, pressing question of physical love, to absorb life from the center and its periphery at once, so she could for a while take it all in with the sweet fullness of the entirely human and the utterly strange, without apprehension or fear."
A nice neighbor boy, Elijah Key, courts Jane and falls in love with her. Jane wants him, but she sets him free to marry and have children. She has a generosity without bitterness and exudes a kind of charisma, almost a saintliness.
Although it might not seem so, there is a lot more besides Jane's story going on in this novel. Mr. Chisholm has his alcohol demons to fight. Jane's older sister Grace, an unhappy girl, hates the farm, moves to town, and flirts with prostitution. There is a fascinating tangle involving life insurance taken out by Jane's father on his sharecroppers, when one of them is killed in an accident.
And throughout, Dr. Thompson cares for her, giving counsel, keeping abreast of new medical possibilities, corresponding with colleagues around the country. He all but adopts Jane. One wonders if a December/May romance might have been possible but he remains tender and paternal to the end.
Watson has done something extraordinary here. This is not grit-lit, with redneck roughhousing, or small-town real estate magnates drinking at the country club, or unhappy belles bonded in their marital troubles. But it is Southern literature, nevertheless: fresh, new, without cliché . Watson may be our best. I hope this novel finds the many readers and prizes it deserves.
Don Noble is host of the Alabama Public Television literary interview show Bookmark and the editor of A State of Laughter: Comic Fiction from Alabama. This review was originally broadcast on Alabama Public Radio.