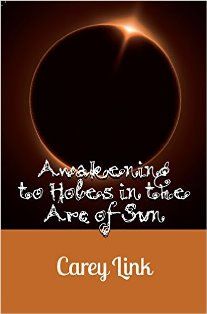 Awakening to Holes in the Arc of Sun
by Carey Link
Mule on a Ferris Wheel Press, 2016
$14, Paper
Reviewed by Harry Moore
Genre: Poetry
A Fairer House Than Prose
I dwell in Possibility—
a fairer House than Prose—.
—Emily Dickinson
The thirty-eight free-verse lyrics of Carey Link's Awakening to Holes in the Arc of Sun probe a world of ambiguity, tension, struggle, and pervasive beauty. Beyond all else, the poems affirm and celebrate the transforming power of poetic imagination.
Varied in length and pacing—including the arrangement of words on the page—the poems delight in the physical world of breath, trees, ponds, fried chicken, collards, and a dog "with molasses eyes and wavy raspberry tongue" who comes without being called. They search for truth in shadows, "between cracks," in crevices, and in a grandmother's "opaque blue veins." They view life "from all angles." The voice is even, steady, sure of itself. Unobtrusive echoes of Eliot, Keats, Frost, Cummings, Dickinson ripple through passages.
The poems are conscious of their craft—the "mask," "the masquerade"—but they also listen for the "surprise knock," for "ideas / somewhere in dreams." They move "between earth / and watercolor dreams." The materials can be shadowy and cryptic; seen together, the poems trace an arc from birth and childhood to maturity. They "walk backward / to dance a diary / behind the scrim."
Recurring images throughout the poems create a web of contrasting connections. Shadows contrast with light, rainbows, and watercolors. Graceful curves—arcs, arches, "the half moon / of someone's cheek"—contrast with inhibiting "geometrical" shapes, "intersecting angles," "verticals / horizontals / parallels." Water, floating, rain, rivers are good. Hands are pervasive—to be read, touched, held; to beat time to music, feel "the supple fuzz / of newborn baby hair."
One deeply embedded image in the poems is that of a house in which the poet retreats to her room upstairs and surveys the world through its window. In this "zenith" of her world, "a / multitude / of / possibilities / drip to Earth." In the "silence" of this room, she speaks. In her withdrawal, she experiences all. Even when she escapes "suburban townhouses" for "furrowed fields / beneath open sky," she works her way back to the room: "To watch a yellow and black spider / on my window" weaving a "code of where she has been— / where she will go." This is not a retreat from life: the poet's imagination unleashes "riptides [that] rock the foundations / of [her] hourglass house"; here, in her room, she glides "on the continuous sea, / desires quenched."
In grief, illness, confinement, and recovery, the poet's house becomes a prison, "florescent rooms, / without windows," a house that is a "dusty delta summer" that will be crushed by the next rain. Even here, however, she finds the attic, which, she says "alone, is mine." There she paints and finds a window. There, like Dickinson, she dwells in possibility.
If the sun's arc has "holes" in it—darkness, pain, grief, frustration, doubt—these, paradoxically, generate an "awakening" for the poet. The poems are authentic and powerful—tracing what the poet calls "the whistle and shake of my foundations"—as they move toward a hard-earned acceptance, resignation, particularly in the fine image, at twilight on the seashore, of "the salutary / last / flight / of / Gulls." The final poem, "Meditation," refuses banalities and any pat resolution—"We pace, / breathe through cracks in the floor, / while we learn to scream silently / beneath violet nerves"—but it ends in quietness and courage and gratitude. We owe our own gratitude to Link, in her first full collection, for these rich and finely etched poems.
Harry Moore, a native of Tallapoosa County, is the author of two poetry chapbooks, What He Would Call Them (2013) and Time's Fool: Love Poems.