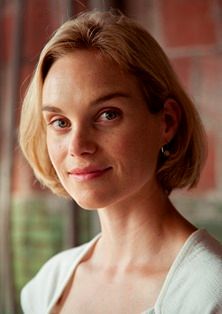 a lesson in smallness
By Lauren Goodwin Slaughter, 2015
The National Poetry Review Press, 2015
$17.95, Paper
Poetry
Reviewed by Tina Mozelle Braziel
Reading Lauren Goodwin Slaughter's a lesson in smallness reminds me of Jane Hirshfield's statement about poetry: "…true poems, like true love, undo us, and un-island. Contrary, sensual, subversive, they elude our customary allegiance to surface reality, purpose, and will." The poetry in this lovely debut collection are true poems of this sort. They immerse the reader in stunning water imagery and thrill her with peeks (three poems!) inside the life of the Barefoot Contessa. More significantly, this collection raises essential questions about the nature of our personal lives: Who are we within them? How do we reconcile our expectations for our lives with what we find to be our reality? It is the examination of these questions that reveal Slaughter's poems to be as emotionally astute as they are beautifully crafted.
For example, the opening poem, "Migration," contrasts a couple's plan for their lives (a cabin, a necklace of sea glass) with their reality (muscular-mixing appliances, ecological light bulbs). It begins with this inventive metaphor:
Tell me again of the flounder's eye—
I liked your demonstration
using an olive and a tennis ball
to show how one eye roams
over the top of the head
till adjacent to its twin—from normal
swimming to lateral flat,
so for the rest of their lives left side
equals up. Love, have we flipped
from bottom feeder too fast?
The speaker repeatedly disarms me by revealing what I may think or feel but would rarely say. "M.A.N.N.A." describes a volunteer's experience delivering free meals. The speaker finds herself wanting to say, "Manna is just something I'm trying / not even a commitment" when one of the recipients hugs her with "fingernail talons" while repeating "Thank god for you." "When I Arrive Home from the Airport" begins with the speaker reading the state of the house as a way to interpret her return:
Arranged blooms on the mantel.
Your morning piss froths in the toilet: a sign
to ignore your gifts? These lilacs, this
Miro book—his blotches organ-shaped
as if to suggest (since we don't
see them) ours exist? We embrace a bit
My lips a bell on your neck, I note
the kitchen is not a mess (does this cancel
out the piss?)
The humor here engages me as much as the irritation for the piss, and I feel the speaker's feelings evolve as her attention shifts from the house to her husband. The poem goes on to say "—oh— / you're right here… Now you feel warm to me."
Another pleasure is how Slaughter satirizes our expectations of ourselves. For example, "By What Age Should the Baby Speak Fluent Chinese," the speaker quips that "The itsy bitsy spider's / a goner" that a parent must "Get up, ashes // ashes or not and row / this boat like you mean it."
Perhaps most poignant are the poems that examine how illness and death recalibrate our expectations. In "Welcome to Paradise," the speaker and her husband do their best to savor the bounty of the Caribbean, an expected paradise, but find their thoughts returning to his stroke-stricken grandmother who lies in a nearby hospital. "His Eye Is on the Sparrow" retells a child's first experience of death, the death of another child. In the first section the child's drowning is described as happening "just like that," a deceptively off-hand description, one that underscores how a child may understand it and how easily (not to mention frighteningly) such a tragedy can occur. The final section reveals how wrenching this death must be now to the speaker as an adult and a mother who remembers that at the funeral her mother made a little noise, then "seized me."
Slaughter uses Elizabeth Bishop's influence to a wonderful effect here, specifically in her use of asides and her choice to swiftly shift a poem's tone. I particularly admire this in "Seahorse" where the speaker compliments the sea-creature again and again until the very last sentence:
It's gorgeous how you make
your little clan, the zygotes slipped
inside the pouch, his, as if
they were a passed note
or a kiss. Say that's us.
The shift to the imperative here, a move much like Bishop's much admired aside "(write it)," makes the speaker's longing particularly tangible and haunting. Examining who we expect and long to be as a family, a former lover, a new Facebook friend, or an overwhelmed parent is no small lesson. As I reread Slaughter's gorgeous, unflinching poems, I find myself repeating to myself, "say that's us," please "say that's us." Feb. 2016
Photo: Lauren Goodwin Slaughter (contributed)
Tina Mozelle Braziel, director of the Ada Long Creative Writing Workshop, is the author of Rooted by Thirst (Porkbelly Press, 2016).