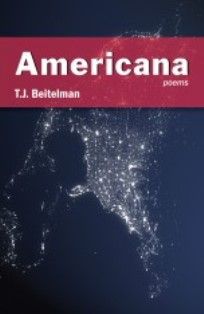 by TJ Beitelman
Black Lawrence Press, 2015
$13.95, Paper
Poetry
Reviewed by Jim Murphy
"Why do I love such a city / as this?" asks the observant and bemused speaker of TJ Beitelman's "Why I Love a City" from the Birmingham author's just-published second book of poems, Americana. The thought continues: "Do mosquitoes have thumbs? They / should. Where is Carl Sandburg when you / need him? Who are my hog butchers?" Here, and in so many ingenious and surprising places in the volume, Beitelman carefully observes and good-naturedly questions the dreams and realities of Americans and their lore, mindfully engaging all the earnestness and kitsch of the culture in the best traditions of America's great city poets. Walt Whitman, Frank O'Hara, Elizabeth Bishop, Kenneth Koch—and of course, Carl Sandburg—are all present here one way or another, and their collective influence is put to fine use in conversation with Beitelman's own distinct, contemporary voice.
Each section of the book sees the poet slightly expanding his field of view and employing a more daring array of forms in order to address his ever-larger concerns.
First, in "Occasions," Beitelman offers his fresh and winning take on the very old tradition of occasional verse. "Upon the Thirtieth Anniversary of Hank Aaron Surpassing Babe Ruth as All-Time Homerun King" and "A Sonnet in Remembrance of Being Propositioned During Intermission of a Tom Stoppard Play, Blacksburg, Virginia, March 18, 1995" are two such examples.
In the second section, "Highland Avenue," he depicts the denizens of that Birmingham street in all their quirky and lonesome glory, from the quiet conversations at a well-known Indian restaurant to the brash hilarity of a Do Dah Day Parade, weaving heard voices and seen actions with the imagined into the poems that suggest both intimacy and threat, always aware of the fraught condition of appearances: "I'll say her eyes are gray; I can't quite see that far. / I'll guess they're eyes that do not soak your image / in—they shine it back at you."
The third and longest section consists entirely of a three-part poem, "Thanksgiving," which represents a tour-de-force engagement of that most American holiday in a posh D.C. suburban home and in the bleak interzone of Baltimore-Washington International Airport. In it, the poet grapples with what it means to succeed in America, what there is to be thankful for, and how to view the cost of such things: "Second-generation American-/ Lebanese. Brilliant. / Bespectacled. It is she who aspires / to the World Bank. / And of course her parents who aspire for her. // I am alone, unhindered, in a room impeccably wallpapered. // There's still dessert."
The passage is characteristic of Beitelman's strong work in this book. In mixtures of small and large, and both bright and dark, there is always a vibrant, energetic, and questioning presence that is quintessentially American. Jan. 2016
Jim Murphy teaches creative writing at the University of Montevallo.