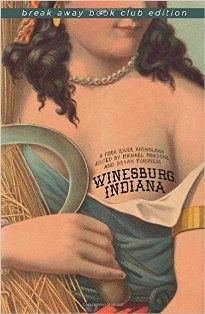 By Michael Martone and Bryan Furuness, eds.
Indiana University Press, 2015
$17, Paper; $11.81, eBook
Fiction
Reviewed by Don Noble
In 1919 Sherwood Anderson published Winesburg, Ohio, a collection of connected stories set in fictional Winesburg, based on the real Clyde, Ohio. Considered a masterpiece, Winesburg inspired a new sub-genre: "The Revolt from the Village."
Ever since the start of the Industrial Revolution, Romantics like William Blake, with his reference to "dark satanic mills," considered the city to be the coagulation of drunkenness, prostitution, vice and filth, and the pastoral English life, with quaint villages scattered about the countryside, to be virtuous and health-giving.
Americans, however, on their often isolated family farms, knew that agricultural labor could be exhausting and lonely and paid poorly. Hamlin Garland in a story like "Under the Lion's Paw" (1889) demonstrated the plight of the farmer, at the mercy of weather, insects, and, most destructively, the financial system, even though he labored "like a fiend" all day every day and "tumbled into bed, every bone and muscle aching with fatigue."
So, rather than either the city or the country, small-town America became and is still considered by many to be an Eden.
In this Rockwellian paradise, folks lived in one-family homes, each with a porch, a yard with trees and a dog, belonged to the Lodge and the church and enjoyed their friends.
A literary revolutionary, Anderson depicted the small town as a pressure cooker of public conformity, secret inner lives, repression and spiritual loneliness.
The central figure, young newspaper reporter George Willard, observed his fellow townspeople, living small lives, but each with a story that needed to be told.
Winesburg, Indiana, is Michael Martone's 2015 version of Winesburg, Ohio, but with some differences. Martone and co-editor Bryan Furuness asked twenty-eight authors to contribute stories to this collection, which contains forty-one pieces, each in a different voice. Martone himself wrote thirteen of them. This is not a parody of Anderson. It might be considered an updated report on conditions in flyover country, 100 years later.
It begins with homage.
The first piece is a letter, on letterhead, from Biddlebaum Cowley Reefy & Swift, LLP, demanding that fictional Winesburg, Indiana, cease and desist from intruding on the trademark of fictional Winesburg, Ohio. The lawyer, Avery Nuit, claims Anderson's town has proprietary rights to "the distribution of Sadness, Fear, Longing, and Confusion itself. We have patented madness. We own Trembling. We extensively market Grief."
Well, no. No one has the exclusive rights to sadness and grief; there is an abundance, lots to go around, especially in Indiana.
The Winesburg, Indiana, city manager tells us his town is in tough shape. It contains the state repository for human hair from barbershops, and the growth industry, so to speak, is as a burgeoning necropolis for cities that have outlawed cemeteries. Now the dead are brought daily in tractor trailers to be buried in tracts on the edge of town. There are also an eraser factory and a processed cheese plant.
Dozens of these twenty-first century Winesburgers tell their stories, and some are hysterical. For instance narrator Amanda Patch reports her book discussion group of older women became focused on Butler's Lives of the Saints, especially the stories of virgins, martyred by "incinerations at the stake, crucifixions, beheadings, stonings, rapes…" etc. etc.
"It was all quite thrilling," she says. "We were moved." Although they had "long suffered both the pangs of birthing and the fandangoes of sexual intercourse," the ladies decide to let the local plastic surgeon reconstitute their virginities, "to reattach [their] long-gone maidenhoods." They
participate in a "kind of tontine in reverse" putting the cork back in the bottle.
Just as funny is daughter Jackie Patch's story. She and a number of other women have been seduced by the lecherous Reverend Dave, who eats their toenail clippings, sprinkled on his peanut butter and pickle sandwiches. Once they have become part of his Essence, he ceremoniously deposits and commingles his Essence in the Matrix of their Temple. Preacher Dave has a dandy harem for a while but then ladies decide they don't need him; they have each other.
Most stories are not so jolly.
Some are fanciful: Dale Rumsey cleans up varicolored alien scat in the park.
Burt Coble is a night fisherman and, in a piece very reminiscent of Anderson, reports on Winesburg at 3 and 4 a.m., the hours of furtive love, loneliness, drunkenness, and despair. Older now, he is more observer than participant.
Beau Morrow's is a story of despair through inauthenticity. His dad worked in a slaughterhouse; he was a real butcher. Beau works in a supermarket and realizes he is living a lie. He is not a butcher. He is just a man who sells meat.
Walt Voltz maintains the shortest railroad in America: one mile.
Grudge Wright is a compulsive inventor of dubious jokes. They all begin the same way: "Jumper cable walks into a bar. The bartender says, 'Man you look terrible.' The jumper cable says, 'Don't get me started.'" "A tongue depressor walks into a bar. The bartender says, 'Get out of here. You make me gag.'"
Like a bottle of flies, Winesburg hums with trapped life.
Don Noble is host of the Alabama Public Television literary interview show Bookmark and the editor of A State of Laughter: Comic Fiction from Alabama. This review was originally broadcast on Alabama Public Radio.