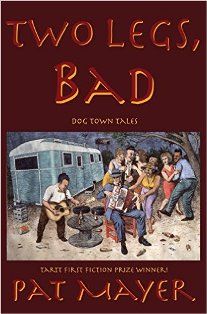 By Pat Mayer
Livingston Press, The University of West Alabama, 2015
$30, Hardcover; $17.95, Paper
Fiction
Reviewed by Don Noble
As many will recognize, the title Two Legs Bad comes from George Orwell's Animal Farm. In that parable of revolution, when the livestock take over, they adopt this slogan, referring to their previous masters: humans. The humans in Pat Mayer's three books of fiction are not all "bad," but many are incomplete or damaged.
Mayer's characters in her two novels, Terminal Bend (2000) and The Cannibals Said Grace (2009), set in south and then coastal Alabama, are often violent, "challenged," sad; both novels concern human cruelty and murder, although sometimes quite cleverly.
Two Legs, Bad, winner of the Tartt Prize for short fiction, is similar, but subtler and funnier.
Mayer has moved the setting west to fictional St. Bernard, Louisiana , but it is the same kind of place as in the novels, on the edge of a swamp, with the suggestion that some characters are still, metaphorically, leaving their reptile stage and crawling towards fully evolved status.
In the first story, "The Destroyer of Worlds," told, like most of the stories in a male voice, Scout tells of his passion for fire.
He is sad to have missed the Chicago fire, the San Francisco fire, Oppenheimer's achievements, and Vietnam. His mother is a drunk and he is bullied, but he perseveres. It is not wise to be mean to Scout or even disappoint him. House trailers and abandoned buildings go up in flames. More spectacularly, gas stations explode like bombs. Scout joins the town fire department.
Unlike Scout, a town boy, many of the characters are "bayou rats." The wildest are "deep-ins," who live in the swamps and are semi-feral. Vicious policemen and visiting public health workers, who shear and spray them for lice, treat them as less than human.
In "Hunger: A Love Story," Willie is desperate for the beautiful but coldhearted Wanda Mae Griggs. She loses a leg falling into a combine. Nevertheless, "Wanda Mae was still really stuck up for a one-legged girl," says Willie. "I was dirt under her only remaining foot." Later, distracted by Wanda Mae's beauty, Willie stupidly allows himself to be bitten by a water moccasin and loses his hand. As in a Flannery O'Connor story, their mutilations suggest internal deformities become manifest.
Alice, in "The Alekhine Defense," is schizophrenic and sees herself disappearing piece by piece when she looks in the mirror. She is married to Jack Smiley, a recurring character in these stories. Smiley is the high school principal and a complete jerk. He is a cowardly, cruel idiot, an ignorant homophobe who torments Lillian and Ophelia, an English teacher and a librarian, and even stands by, timidly, as a local politician removes all "lesbian" literature from the school library. Ophelia has her revenge and the reader cheers.
These stories are clever and funny, but dark and often politically incorrect.
In "An Incident of Gravity," Agnes, an increasingly obese woman, chokes to death at the Wednesday night church supper. Agnes had always portrayed the Virgin Mary in the annual live nativity scene, but "[e]ach Christmas she took up more and more of the small stable, eventually crowding out the cotton batting sheep and the human shepherds, who were required to take their sheep and participate from the far side of a hedge as though they'd lost their way." Fierce competition to replace her ensues.
In "Bear, Part Two: What the Dog Said," Charlie LaForce has a dog that talks, if one word, "Mama," constitutes talking.
"Flight Path" is a dark comedy about a house construction scam. Shoddy, tacky, pseudo-Swiss homes are built near the airport . Buyers are duped. It seems so peaceful there. But when the season changes it becomes clear the landing and take-off noise is unbearable and in fact illegal. After the inevitable, indeed expected, lawsuits, the homes are bought by the government at several times their value. Aside from the disappointment and confusion it is sort of win-win.
In all the ugliness and/or tackiness of life in St. Bernard, sometimes beauty emerges on top.
In "Perpetual Reboot," the young protagonist, a teenage reprobate and budding pornographer, is kicked out of high school and takes a job at a monument shop where gravestones are cut, polished, and inscribed.
It is exhausting work, moving blocks of marble around, but over time Butch has his epiphany: "I thought marble was something to spray-paint with obscenities. I never looked at it before and admired its age and adaptability, its willingness to be carved and cut and transformed…. I realized that an artist absorbs beauty through his eyes and ears and sends it out through his hands, enriched by everything that artist knows and believes."
The last two stories I found comic and tender. In "Clara, Part One: Single Familiar Object," after a long, satisfying marriage to Eugene, Clara has trouble coping when he dies. Her life has gone from a beautiful "shared quiet" to an "isolated silence." In "Clara, Part Two: Last Gleaming," she suffers an additional tragedy when her dog dies and she has to cope with the burial arrangements.
These are admirable, well-made stories. Small town grotesques abound, true, but they're presented with affection, not scorn or misanthropy.
Don Noble is host of the Alabama Public Television literary interview show Bookmark and the editor of A State of Laughter: Comic Fiction from Alabama. This review was originally broadcast on Alabama Public Radio.