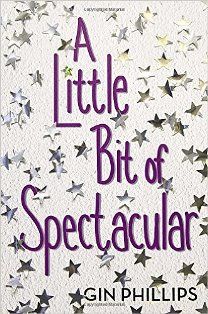 By Gin Phillips
The Penguin Press, Dial Books for Young Readers, 2015
$16.99, Paper; $10.99 eBook
Young Adult
Reviewed by Don Noble
I have from time to time reviewed Young Adult novels and even a children's book or two, but this is my first foray into the Middle Grade, Young Readers category. Young Readers are ages 10 and up, grades 5 and up. I don't believe I would have read this novel except for my admiration for the work of Gin Phillips. Her first novel, the utterly realistic The Well and the Mine (2007), concerned a family in a mining town north of Birmingham and won a Barnes and Noble Discover Award. Her second, and I think even better novel, Come In and Cover Me (2012), had as protagonist a woman archaeologist on a dig in New Mexico and partook of the paranormal as the protagonist, Ren Tylor, is visited by a native American woman dead for centuries.
After a children's book The Hidden Summer, Philips has here tried her hand at Middle Grade.
Birmingham writer Kerry Madden is fond of saying, in fiction for young people the writer should run her protagonist up a tree and then throw rocks at her. One assumes none of these rocks will hit her in the head and kill her. Gin Phillips follows this pattern.
Her heroine, the eleven-year-old Olivia, has just moved with her mom from their home in Charleston, South Carolina, to downtown Birmingham where they moved in with Gram in her condo.
They had to. Olivia and Mom are going through a rough time. Money is short and Olivia's mom is in bed recovering from surgery for fibroid tumors. A bright child, Olivia has researched tumors and tells the reader Queen Mary had them; a man in Vietnam had a 200-pound tumor in his leg; "goldfish with tumors were once highly prized by Japanese royalty."
Besides her anxiety over her mother's health Olivia, new in town, has no friends. At loose ends after school she likes to stop in a coffeehouse, Trattoria Centrale, on her way home from school and have a scone. One afternoon, while washing her hands in the bathroom there, she spies a graffito on the wall: "We are Plantagenet. We are chosen." This stands out: a mystery. Then she sees it at school too, where most of the graffiti is really boring: "Really if I judged the student body based on what they wrote on the walls, I'd have sworn no one had a creative bone in their bodies. Not even a creative toenail or a creative armhair." And an additional line appears: "We will never grow old." Then more: "Our home is in the stars."
Olivia is intrigued. She researches Plantagenets and, as luck would have it, makes a best friend, Amelia, another curious child who keeps and studies a large collection of frogs in her Southside backyard.
The two set out together to solve the mystery, checking out girls' rooms all over town for clues. Are Plantagenets a society of descendants of British royalty? Are they aliens, secret crime fighters?
Let me repeat, I do not know the tastes or needs of eleven-year-old readers, but I found A Little Bit of Spectacular perfectly readable and pleasingly educational—frogs and Plantagenets—as Olivia and Amelia follow the clues.
And no, Olivia's mother does not die.
Don Noble is host of the Alabama Public Television literary interview show Bookmark and the editor of A State of Laughter: Comic Fiction from Alabama. This review was originally broadcast on Alabama Public Radio.