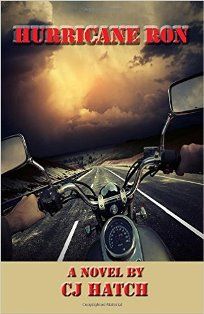 By C.J. Hatch
Dagger Books, Second Wind Publishers, July 2015
$12.20, Paper
Fiction
Reviewed by Gretchen McCullough
C.J. Hatch's first novel, Hurricane Ron, a thriller published by Dagger Books, offers insight into the nasty, secret world of motorcycle gangs who recruit soldiers returning from war. Hatch is no stranger himself to war zones. Heavily decorated and widely travelled, Hatch served in Operation Desert Storm in Saudi Arabia and Sarajevo in Operation Provide Promise as a military journalist. A native of Mobile, Hatch writes about a rural setting he knows well, peppering his novel with a cast of colorful characters.
Ron, the novel's protagonist, trained in Special Forces and frequently has flashbacks of a "rescue operation" gone awry in Kosovo. His reporter pals, Elena and Teddy who work at the local television station with him in Alabama know the secret about the operation. On the day Ron is fired, he also discovers that his wife has left him and taken their son, Julian with her. When Danny, his wife's boyfriend, returns to steal his motorcycle, Ron beats him beyond reason. A wanted man, Ron keeps running into more trouble on his way to the Carolina mountains. The farther he rides from Alabama on his motorcycle, the more trouble he creates.
While the title might seem a little too obvious, the novel has a tight, entertaining plot with many twists and turns. Ron runs smack into a motorcycle gang, Thor's Hammer, whose leader is aptly called "Zeus." Many of the members are returning veterans with skill sets and psychological problems that make re-integration into civilian life difficult; instead, they focus their energies on extortion, trafficking, and organized crime.
After Ron is rescued by "Tool," a mechanic who repairs motorcycles for Thor's Hammer he yearns to return to Alabama to see his young son. He makes a deal with Kevin, an undercover FBI agent inside the gang, when Thor's Hammer robs a bank. Once the gang members are safely behind bars, Ron zooms back to Alabama, straight into a real hurricane, funnily enough, the least frightening character in the book. Here he discovers that his estranged wife and son are held hostage by Beaufort, a gun-slinging sheriff with a limited IQ, and his troubles begin again.
Gretchen McCullough is a writer who teaches at the American University in Cairo.