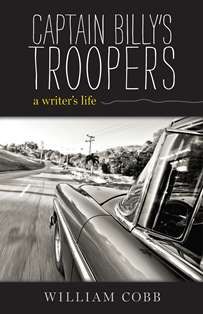 By William Cobb
The University of Alabama Press, 2015
$34.94, Hardcover; $34.95 eBook
Nonfiction
Reviewed by Kirk Curnutt
The alcoholic memoir is an interesting, often upsetting subgenre of autobiography. Whether the narrative arc insists on recovery (William Seabrook's Asylum [1934]) or denial (F. Scott Fitzgerald's "The Crack-Up" trilogy [1935]), whether it dramatizes relapse (Augusten Burroughs's Dry [2003]) or whether it exposes the meticulous ways functional drunks hide their intoxication (Caroline Knapp's Drinking: A Love Story [1996]), these personal narratives walk a thin line between confession and display. For every recognition of the damage the disease wreaks not only on its sufferer but on family and friends, there is the contradictory tendency to exult in taboo behavior, if not quite boasting of the extremes addiction drove one to, at least dramatizing the temptation to depict self-destruction in all its crazy detail, showing just how far both emotionally and physically one went to seed before committing to sobriety. This past summer Sharon Hepola's Blackout: Remembering the Things I Drank to Forget captured this dual appeal perfectly: time and time again in promotional interviews Hepola recounted the dangerous behavior her binge drinking led her to commit, often dazzling TV and radio interviewers with stories of stripping at parties and waking up next to strange men to prove she could down her booze like one of the boys. For anyone who has been on the receiving end of alcoholism—who has swept up the shattered lampshades or mopped up the puke—listening to these tales was an uncomfortably familiar experience. Here we the bystanders were once again forced into the role of a passive audience, watching the spectacle from the sidelines, knowing that our private frailties and dilemmas seem mundane by comparison, realizing we aren't ever likely to walk such a sharp razor's edge.
William Cobb's memoir, Captain Billy's Troopers, begins with a scene common to many of these narratives. It is July 21, 1984, and the author has hit rock bottom. Knowing he may die if he doesn't get help, he desperately seeks admittance to Brookwood Hospital in Birmingham, dreading the withdrawal symptoms but also terrified of coping with life's inevitable disappointments without Scotch to blot the depression. "A drunk grows old alone and dies alone," Cobb writes, "all alone, because all he wants is his booze and his booze seals him off from everything he values and loves." In many ways, Captain Billy's Troopers is the author's way of reaching out from the abyss of the false romance of the drinking life to understand how alcohol went from a diversion to something that threatened his marriage to fellow writer Loretta Cobb (the couple recently celebrated their fiftieth anniversary) and his relationship with his beautiful daughter, Meredith. Cobb's recovery story is more understated than most tales of benders and binges found in books like Hepola's or Pete Hamill's A Drinking Life (1994), however. As the subtitle, A Writer's Life, suggests, there is more to an addict's life than addiction. There is the career, the friendships, the family history, the hometown and the adopted home, and perhaps most challenging of all, the indignities of the aging process to come to grips with. For Cobb's willingness to foreground these elements and deemphasize the downward spiral he stopped at the age of forty-six, we can be grateful.
As many readers know, the author hails from Greene County, born in Eutaw in 1937 and raised in Demopolis. Several chapters devoted to his childhood and coming of age make for some of the memoir's most affecting passages. There is a great deal of family history, much of it told with twists of Southern humor: Cobb's first pet was a piglet with a penchant for escaping his pen, and one day the author's "priss" of a mother met it on the sidewalk as she headed for a downtown shopping spree. Much to Mother Cobb's chagrin, the pig follows her the entire way, just like a dog. Demopolis in the 1940s and 1950s is also chock-full of colorful characters such as Joe Bynymo, who walks around town with a scarred face and a bullwhip. Years later, Joe would inspire the title character of Cobb's novel The Hermit King. Amid growing tensions with his father over his blossoming interest in the arts, Cobb censors very little as he describes what growing up in this period was like: "I was still fumbling my way through some understanding of sex," begins one chapter. "I liked pornography I occasionally saw.… I purchased a copy of the very first issue of Playboy, with Marilyn Monroe on the cover, at Bailey's Drugstore downtown."
Eventually, Cobb lands a faculty position at the future University of Montevallo (then known as Alabama College), making $5,000 a year teaching English, and it's here that the memoir begins to address the ups and downs of the writing life. Early on he wins a major short story prize from a journal edited by the legendary Whit Burnett, the man credited with discovering J. D. Salinger, and a decade later he attends Bread Loaf summer writing seminars, becoming drinking buddies with John Gardner, the pipe-toting literary bad boy known for Grendel and On Moral Fiction. Several literary superstars make cameo appearances. As a young man Cobb journeys to Oxford and has a brief, star-struck encounter with William Faulkner. Years later his former student and Loretta's best friend, the novelist Cassandra King, marries Pat Conroy. Horton Foote, a good friend, gives notes on rehearsals for a New York production of Cobb's play Saturday's Child, starring Academy Award winner Celeste Holm. Another friend, Jesse Hill Ford, author of The Liberation of Lord Byron Jones and sadly overlooked since his 1996 suicide, shares an audacious correspondence with Cobb and blurbs his books. Other encounters don't fare so well. Fans of Harper Lee are encouraged to avoid page 193, where the author voices an opinion of To Kill a Mockingbird that in Alabama can get one burned at the stake for heresy.
The most fascinating of the memoir's many observations on the publishing industry concern Cobb's tutelage under his agent, Al Zuckerman, who nurtures Cobb's writing for more than a decade as he labors over his debut novel, Coming of Age at the Y (1985). Although Cobb professes disinterest in competing in the cutthroat world of New York houses, preferring to publish with regional upstarts such as Portal Press out of Tuscaloosa, Zuckerman encourages him to test his mettle. The result is A Walk Through Fire, certainly Cobb's best-known work, which wins a six-figure bid from William Morrow. Although Morrow primes the author for a national breakthrough at the age of fifty-four, promising to make the book its lead fiction for fall 1991, a change of leadership means altered priorities, and Cobb is suddenly in an unenviable position: "They gave me a huge advance and then let the book die, so that after that, for the rest of my writing career, editors and agents would simply type in my name on their computers and look at my sales record and see that [the novel] did not 'sell through,' that is, it did not earn back the advance against royalties. Of course, there was no asterisk to say that it was through no fault of mine." Soon Zuckerman drops Cobb as a client, more eager to mint gold with Ken Follett thrillers than to maintain their twenty-year relationship.
Inevitably, peaks and valleys circle back to alcoholism and the challenges of staying sober. Even after Cobb stops drinking in 1984, he must live in a fishbowl of a college town and work in a profession that glamorizes intoxication, which can be an embittering experience for anyone facing "the drudgery of 'one day at a time.'" By Cobb's early seventies, however, a new struggle emerges: the author begins to show signs of dementia, and a craft and passion that once seemed to come naturally begins to falter. What follows is a humbling descent into incontinence, multiple prescriptions, surgeries, bone-breaking spills, and memory lapses, all narrated with a melancholy acceptance but also the resolve of endurance. "I can usually gauge the quality of my day during my morning shower," reads a passage near the memoir's end. "It takes me much longer to shower and get dressed on the bad days, because I have to think about everything. It's not that I don't know what the hairbrush is for… it's just a vacant pause, a hollow moment, almost like my brain has skipped a beat.…"
The memoir's title refers to an obscene ditty Cobb and his high-school friends drunkenly invented one 1950s night at a dive called The Good Lady's across the river from Demopolis. Often the group sped home in Cobb's 1952 Chevy, dubbed The Red and Black Bullet, chanting the song at the top of their lungs, celebrating themselves as "riders in the night" and "dirty sons of bitches" who would "rather **** than fight." By the end of the book, "troopers" takes on a more somber meaning, a recognition of friends and family whose love and support enabled Cobb to survive what he self-deprecatingly calls "my not very dramatic or interesting struggle over time not to drink." Captain Billy's Troopers is a letter of thanks to those who made the journey with one of Alabama's most distinctive storytellers, an often beautiful and moving gift of prose that stands as a gesture of grace, healing, and survival.
Kirk Curnutt is the author of three novels, including his most recent, Raising Aphrodite (2015). A fourth, The Night Was So Young, will be published in early 2017.