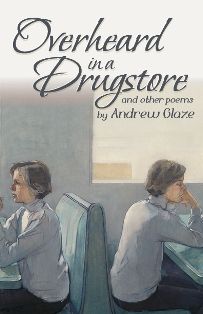 By Andrew Glaze
NewSouth Books, 2015
$21.95, Paper
Poetry
Reviewed by Barry S. Marks
Can you blame me for approaching Andrew Glaze's Overheard in a Drugstore: And Other Poems with a sense of trepidation? The latest book by Alabama's 95-year-old Alabama Poet Laureate opens with a copy of a 1956 letter from no less than Robert Frost and a photograph of Glaze, Frost, Wallace Stegner, and others at the 1946 Bread Loaf Writers Conference.
As if that is not daunting enough, the first poem, "Mr. Frost," recounts a meeting between the Great Poet and a 100-year-old man ruminating on the meaning of life and the value of whiskey.
Can you blame me for thinking that this was going to be a solemn, heavy, mind-numbing read of 19th Century proportions?
Justified or not, this prejudgment overlooked the fact that, for over half a century, Andy Glaze has been the purveyor of highly enjoyable, accessible poetry that balances intelligence and technical craft with wry humor and sincerity. At times, he is outrageous, at times soul-touching, but never, ever boring.
Overheard in a Drugstore is one of the most downright enjoyable books of poetry that this reviewer has read in many years.
Following the poetic recounting of Frost's meeting, Glaze jumps right into the personal-but-never-sentimental poetry for which he has become famous with a poem simply titled "Love." This touching, straightforward poem works like an arrow to the heart with descriptions of love poems that "flap and squawk" but may come "skittering back" in ghostly form in later years. Nothing in those years have dulled Mr. Glaze's passion, wit, or inventiveness, as made clear when the final verse strikes home:
Though it takes life for only a moment or so,
as it awakes from its wraithy home
you'll once more shutter and sing,
and out of its ghostly enchanted world,
remember the miracle of speech.
Subsequent poems take the reader through everything from light-hearted romps and wordplay to quiet, wise reflections. The titles alone testify to the poet's imaginative and often irreverent views of the human condition: "Waltz of the Sensible," "Days of Being Born," "Goddam Pretty," "You're Never With Who You Want To Be" (as true as it is clever, and vice versa), and "Groucho" ("I'm the Groucho of friendship, which means / nobody I'd like for a friend / could stand to be friends with me").
There are few things more difficult than tempering passion and beauty with wit, whether that over-used term means "nature to advantage dressed" or clever insight. No one does it better than Mr. Glaze, and the result is a book that should be read, not merely because it is the latest from a venerable poet who was among the first to be inducted into the Alabama Writers Hall of Fame. The book should be read because it is just plain good and just plain fun. Only rarely does the old poet allow himself to pick up the mantle of Old Poet and speak in the wistful voice we might expect. When he does so, it is with grace and consummate skill as in the ending to a poem not surprisingly called "Old Poet":
Why do there not canter up these days
poems that stamp the hoof,
and offer the bridle, so he must clamor top-side
the-saddle, and set himself to thunder off,
not caring to guess where the gallop goes,
or by what fork of the road,
or by what fork of the road.
The obvious nod to Robert Frost's most famous poem reminds us that Andrew Glaze knows just who he is and where he is at this late stage of his career. He has chosen his course and labored long for his readers' benefit. Once again, as Mr. Frost noted in 1956, Mr. Glaze has produced "a book of verse…genuine and readable…." Good call, Mr. Frost. And thanks again, Andy.
Barry S. Marks, a Birmingham attorney and past president of the Alabama State Poetry Society, has published three books of poetry.