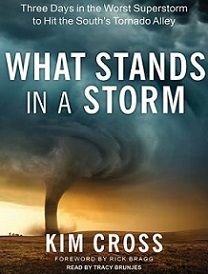 By Kim Cross; Foreword by Rick Bragg
Atria Books, 2015
$25.00, Hardcover
Nonfiction
Reviewed by Don Noble
After taking the BA and the MA in journalism at the U of A, Kim Cross honed her skills working as editor-at-large at Southern Living and writing articles for outdoor and sport magazines such as Bicycling and Runner's World and several newspapers, including USA Today.
What Stands in a Storm is her first book, released March 10th, and it has every chance of being a best seller.
Cross's book reminds one of Sebastian Junger's 1997 blockbuster, The Perfect Storm, in which Junger described to his reader the atmospheric conditions that combined to create the giant nor'easter, and then personalized the meteorology by telling of the fate of the crew of the Andrea Gail, a long-line swordfish boat out of Gloucester, Massachusetts. Cross does a splendid job of educating her readers about tornadoes, the sometimes dangerous myths and life-saving scientific truths, and brings the story home emotionally with a superb job of reporting on individuals caught in climatic catastrophe. In his Foreword, Rick Bragg rightly praises Cross's meticulous re-creation "of the drumbeat of horrors of that terrible day."
Although more tornadoes form on the Great Plains, they occur in every state. In fact though, more people are killed by tornadoes in Alabama than anywhere else. Tornadoes do cross over mountains and enter cities. They don't get "trapped" in valleys. It looks as if, year after year, they follow the same routes, often interstates, but that is because in these parts the interstates and mountains run, coincidentally, northeast, the direction weather usually travels. Also, there is no need to open a window to equalize air pressure and let the wind flow through, says a NOAA publication: "The roof ripping off and the pickup truck smashing through the front wall will equalize the pressure for you."
Cross discusses several earlier outbreaks, especially the rash of 148 deadly tornadoes in 1974, with 319 dead, 77 in Alabama. It was the largest outbreak on record until April 2011, the subject of this book. In that month, 757 tornadoes hit 21 states, from Texas to New York; half of these hit April 24th-27th. On the 27th, 62 hit Alabama on one day; 324 people died, 252 of them in Alabama.
Cross tells the stories of a variety of people, mostly young, who survived this day. For a year, she interviewed over one hundred first responders, neighbors, meteorologists, and survivors and took their eyewitness accounts. With the cooperation of families and friends, Cross has also meticulously pieced together the stories of several who didn't make it through, using and quoting precisely, without editing, time-stamped posts from phones, Facebook, Twitter, chat rooms, audio and visual recordings of every kind. This is an extraordinary piece of reporting and could not have been done prior to texts and social media. In The Perfect Storm, Junger mainly relied on the recollections of others in interviews, recreating scenes but not making up any dialogue. The world was a less "connected" place in the 1991 storm.
Cross describes the tornadoes in Mississippi, and in Cullman, Birmingham and Cordova, Alabama, but focuses on Tuscaloosa and especially on the Beverly Heights neighborhood. She uses one house, No. 31, to exemplify the destructive power of the storm as it shredded neighborhoods and turned debris into millions of pieces of shrapnel, and to demonstrate the courage and selflessness the tragedy evoked, in friends and neighbors, yes, and even in strangers. She narrates the movements of a number of individuals in the hours before the storm, during the immediate aftermath and, afterwards, for some, the lives the survivors had to pick up and move on with. One young woman married a week later, having buried her sister. Although of course nature is mindless, the tornado did not always seem so, sometimes appearing willful and malicious and capricious.
Although DCH Regional Hospital, which treated more than 800 people, was just barely missed, the EMA—Emergency Management Agency—headquarters, housing the equipment for responding to just this kind of emergency, was demolished, as if the storm had "a wicked intent."
And there are always peculiar details that amaze one: "a flock of blue jeans from a plant in Hackleburg flapped forty-six miles and landed in a field. Photographs from Phil Campbell fluttered down over Lenoir City, Tennessee, 280 miles away."
Be warned, the pain is evoked too. The scenes of fathers or mothers in morgues identifying the bodies of children, the realization that many young, promising lives were arbitrarily crushed, will choke the reader up. Cross describes one bereaved mom who leans over to smell her daughter's hair: "a scent so dear and singular that it exists one place in the universe. It is something every mother knows by heart: the scent of her baby's head."
Cross rightly identifies and praises many heroes on that day, but one is perhaps unexpected. James Spann, the veteran weatherman, at his post for ABC-TV in Birmingham, is credited with saving innumerable lives because he recognized the immense danger, could explain it clearly, and was able to convince listeners to take shelter.
Don Noble is host of the Alabama Public Television literary interview show Bookmark and the editor of A State of Laughter: Comic Fiction from Alabama. This review was originally broadcast on Alabama Public Radio.