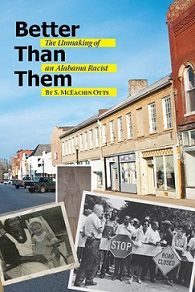 By S. McEachin Otts; Foreword by Frye Gaillard
NewSouth Books, 2014
$23.95, Paper
Nonfiction
Reviewed by Norman McMillan
The central event of S. McEachin (Mac) Otts's Better than Them: The Unmaking of an Alabama Racist is a voting rights march to the Hale County Courthouse in Greensboro on July 16, 1965. The march received some coverage, even by the national press, but, after the massive national attention to events in Selma four months earlier, very few people seem to have paid much attention to the Greensboro march. And yet for some people, this march had a far greater direct impact than did the events in Selma. Otts, a Greensboro native who was about to enter the University of Alabama in the fall of 1965, is one of those whose observations and actions that day left a strong impression on him and had much to do with his emerging attitudes about race.
Better than Them might well be called a hybrid. It's part memoir, part investigative journalism, part history, and part social commentary. All these approaches enable Otts to describe in great detail his ongoing struggle to understand the nature of racism and to encourage open and honest discussions on the topic between whites and blacks.
Otts is the scion of a prominent family in Greensboro's history. His remarkable great-grandfather, John Martin Philip Otts, was a Presbyterian minister and widely-published religious scholar who married the most well-to-do eligible young woman in town. When he retired from the ministry, he returned to Greensboro, where he and his family occupied Magnolia Hall, a stately and imposing Greek Revival mansion built in 1855.
An expression sometimes used about such families as the Otts, "Shirt sleeve to shirt sleeve in three generations," describes the falling off, the loss of fortune these families experienced over the years, even as the fierce familial pride remained. J.M.P.'s son Lee, who was Mac's grandfather, was a lawyer and a banker, but the fortune began to slip away in his day. Lee's son John, Mac's father, never went to college and worked as a deputy sheriff and other such jobs.
The generations enumerated above, including that of the author, breathed the air of white supremacy, but the quality of relations with blacks, as described in the book, became worse as time passed. The natural noblesse oblige of J.M.P. Otts (he was appointed by Governor Thomas Seay to the board of trustees of the Alabama Colored People's University in 1887) had become the kind of hatred exhibited by his grandmother, who took Mac aside to tell him he was "better than them," and, much more stridently, by Mac's father. Mac describes a chilling incident in which his father's racial hatred is exhibited violently, and Mac says he thought his father might have beaten someone to death. At the voting rights march, where Mac himself held a tire iron he was ready to use in anger against the demonstrators, we see his difficulty in shaking the old attitudes of most of the adults around him.
As Mac grew up in this environment, he adopted much of what he heard. The hateful voices were particularly common in the barber shop, but racial attitudes were also expressed in his home and even at church on occasion. There were, however, the kinder, more generous voices Mac heard—a coach/principal and two teachers at his high school, all of whom planted positive seeds that took a while to come to fruition.
Mac Otts showed an independence once he left his father's household. He embarrassed his father by dropping out of law school and obtaining, of all things, a masters in social work. I think his experiences working with poor and black people in Tuscaloosa helped him realize that his attitudes on race had been wrong, although it was hardly a Road to Damascus experience. Otts admits readily that old habits die hard.
In his book, Otts not only tells his family's story, which is engagingly done, but he goes to blacks and whites in Greensboro and talks to them about racial attitudes, both in the past and the present. Two remarkable black women who participated in the Greensboro march in 1965 have poignant memories of the civil rights activities of that day, and two white classmates of Otts from Greensboro's segregated high school offer frank and honest assessments of their experiences. To me, the saddest note in the book is the sense by both his black and white interviewees that the young blacks of today do not properly appreciate the struggle required to overcome injustices and are unwilling to be actively involved in the fight.
But Otts' book is not pessimistic. He has great hope that genuine conversation among people of both races can lead to greater racial understanding. I hope he is right. His book is informative and instructive, and it is a pleasure to read. It certainly took courage to write such a book, but I think in the end it will plant some of its own seeds, even if they do take a while to blossom.
Norman McMillan is the author of the memoir, Distant Son: An Alabama Boyhood, which includes an account of his early life near Greensboro.