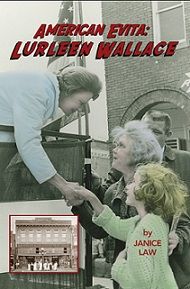 By Janice Law
Eakin Press, 2015
$19.95, Paper
Nonfiction
Reviewed by Ashley Justice
Janice Law's expert penning of American Evita: Lurleen Wallace is a unique look at two women, distanced in both time and geography. Law points out common threads in the lives of Eva Duarte, Argentinean radio actress turned politician and philanthropist, and Lurleen Burroughs Burns Wallace, dime-store clerk turned governor of Alabama.
While the histories of these two female forerunners are compelling in and of themselves, Law's insights into what made their personalities and successes is even more intriguing. Janice Law points out that, by every standard, these were two women who should not have obtained the successes they did in a world dominated by male politicians. But their stories are transitions from unassuming and, by some accounts, poverty-stricken, to influential and prosperous.
American Evita: Lurleen Wallace details the trials and tribulations of both women, along with anecdotal information about the men they loved and supported—men that they catapulted to political success, while waiting, watching, and learning in the background. With these lessons came notoriety and love from the public. Each woman sought to make the world around her better once her influence was established. Each woman also made an impact within a limited amount of time, unaware of the fatal diagnoses that they would eventually face.
Janice Law shows us that, in addition to being the wives of Juan Perón and George Wallace, Eva "Evita" Perón and Lurleen Wallace grew to be beloved public figures, independent of the men they married. They worked hard to help the poor and the under-advantaged with whom they identified so personally. Law also shows us how their husbands both kept the truth of their medical conditions from them, and how these women dealt with the pain and eventual death those secrets would cause.
Readers of American Evita: Lurleen Wallace by Janice Law are given a fascinating vantage point, not only of the political struggles that Eva and Lurleen found themselves reeling from, but also of the dynamics of their relationships with powerful men. While Eva Perón and Lurleen Wallace were extremely different in motivation and demeanor, they shared a similar plight as they made their ways to their own political pinnacles. Janice Law outlines these journeys.
American and international audiences will recognize the bias these women faced, and the great odds each surpassed. Their fights to the end were difficult and dictated too often by powerful men, yet each found her niche, her purpose, and her way of shaping the world. Like other histories of Alabama and the American South, Janice Law's American Evita: Lurleen Wallace is a must read, not only for those who enjoy well-told history, but for those enamored with stories of underdogs who overcome great odds. This book is an excellent read for those inspired by stories of strong women doing great things—feats of which their male counterparts might never have thought them capable.
Reviewed by Ashley Justice. This review first appeared in the Ol' Curiosities & Book Shoppe Blog.