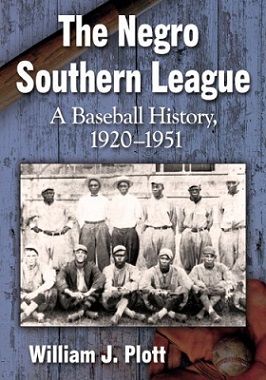 By William J. "Bill" Plott
McFarland and Company, 2015
$39.95, Paper
Nonfiction
Reviewed by William "Bill" Cobb
This immensely entertaining book fills a void in the story of American baseball. The Negro Southern League (NSL) was a minor league feeding into both the Negro American League and the Negro National League, two "major" African-American leagues that have received—especially in recent years—due documentation, as they provided a richly talented group of players to the Major Leagues after Jackie Robinson broke the color barrier in 1947. This book gives the same attention to the NSL.
There are five hall-of-famers who began their playing careers in the NSL before moving up and eventually joining the newly integrated American and National Leagues, the most famous of which were Willie Mays and Satchel Paige.
In 1935, when the Birmingham Black Barons began their season against the Atlanta Black Crackers at Rickwood Field, the left fielder was W. H. Mays, the father of one of the greatest baseball players of all time, Willie Mays. Willie followed his father into the ranks of the NSL, playing for Chattanoga and eventually the same Black Barons.
During this period in the South, newspapers paid scant attention to Black baseball, and even when the games were covered the recaps were often contradictory, even to the point of conflicting final scores. So it was difficult to determine the pennant winner in each year. Plott has delved through hundreds of newspaper accounts and has compiled statistics that give as comprehensive a picture of the league during those years as is possible. His research is thorough; he was able to interview many of the men who played, and his account is lively, never pedantic.
In 1920, the teams comprising the NSL were the Atlanta Black Crackers, the Birmingham Black Barons, the Jacksonville Stars, the Knoxville Giants, the Montgomery Gray Sox, the Nashville White Sox, the New Orleans Caulfield Ads and the Pensacola Giants. Other teams came and went—some even folding in the middle of the season—but up through the 30s these teams remained the core of the league. In 1937, with the formation of the new Negro American League, three teams—the Black Barons, the Cincinnati Tigers and the Memphis Red Sox--moved up to this higher designation. When the Black Barons' move was announced, The Birmingham News said that Black baseball in the city had "reached its biggest moment at last."
In what must have been a herculean effort, Plott has provided appendices listing the yearly rosters of the teams, lists of pennant winners, even no-hit games, compiling in one volume statistics that might have been lost to history if not for his research. For example, he includes 14 pages of chapter notes and an index. But these stats would mean little without the richly related story in Plott's text.
Anyone interested in the history of baseball will love this book; baseball nuts (like me) will devour it.
William Cobb's newest book is a memoir, Captain Billy's Troopers, forthcoming in Summer 2015.