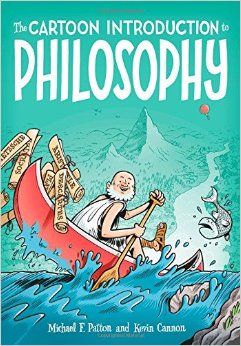 By Michael Patton and Kevin Cannon
Hill and Wang/Farrar, Straus and Giroux, 2015
$17.95, Paper
Nonfiction
Reviewed by Lindsay Hodgens
Formerly regarded as childish and borderline dangerous, comics have undergone a rehabilitation of sorts. Texts such as Art Spiegelman's Maus and Alison Bechdel's Fun Home have made their way into classrooms, where they are taught alongside traditional prose narratives. Even so, the majority of textbooks are dominated by prose, including only the images that are absolutely necessary to illustrate concepts. Although graphic narrative is gradually being recognized as a medium capable of producing mature, serious work, prose is still the go-to means of communicating information. With that in mind, Michael Patton and Kevin Cannon's book The Cartoon Introduction to Philosophy is something of an oddity.
The Cartoon Introduction to Philosophy uses a whimsical narrative to guide readers through classic philosophical topics. We begin with the pre-Socratic philosopher Heraclitus, who delivers an introductory monologue before conjuring a river with a few taps of his heel. Taking his canoe to this aptly-named River of Philosophy, Heraclitus introduces readers to a veritable Who's Who of philosophers ranging from other pre-Socratics to modern voices such as Alan Turing and David Chalmers.
The material is arranged by topic rather than by time period, meaning that a visit from Friedrich Nietzsche can be followed by an encounter with Aristotle. This device is especially useful for new students of philosophy, who may be unfamiliar with the topics being discussed. Rather than having students tackle a collection of challenging texts and expecting them to parse out the subtle differences among approaches, the text clearly explains the stances various philosophers took on topics such as free will, ethics, and logic. Having a basic understanding of the philosophical conversations, students can proceed with their primary texts with a sense of direction.
The book's efficiency in clearly explaining philosophical concepts is aided by the visual aspects of the comics medium. At the opening of the book Heraclitus remarks that the graphic narrative form is perfect for the "visual descriptions, analogies, and metaphors" that are frequently employed in philosophical conversations. It is certainly true that these philosophical devices find new life in this text. Plato's Cave is now converted into a dimly-lit theater whose stupefied inhabitants are too engrossed in the film they are watching to ever think about exploring the world outside the movie theater. Similarly, David Chalmers's discussion of consciousness opens with the image of Chalmers walking a zombified version of himself on a leash. By rooting philosophical discussions in modern media such as film and the recent proliferation of zombies in pop culture, Patton and Cannon show that philosophy is engaging and fun.
All said, The Cartoon Introduction to Philosophy is an important piece of work. Michael Patton's clever dialogue turns even the most difficult topics into lively discussions and Kevin Cannon's noodly illustrations create appealing characters who fascinate with every jaunty step. Together, Patton and Cannon have created a captivating book that proves that graphic narratives can teach just as well, or better, than traditional textbooks. This book is an excellent resource for both students and non-students alike. As Heraclitus says at the beginning of the book, the only prerequisite for the study of philosophy is a "fundamental yearning to discover the truth behind our world and ourselves."
Lindsay Hodgens is a recent honors graduate of the University of Montevallo.