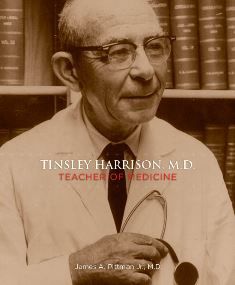 By James Pittman Jr., MD
NewSouth Books, 2014
$45, Hardcover
Nonfiction
Reviewed by Irene Wong
As the mother of two children who became medical doctors, I have often wondered how both siblings from our long family line (on both sides) of humanities teachers instead chose medicine for their career. As they made their way through elementary, junior high, and high school, I did not foresee that goal. Some friends teased me about being a "tiger mom," in the spirit of author Amy Chua (Battle Hymn of the Tiger Mother). The only similarity is simply that we both saw potential in our kids and we needed to convince them that if they would apply themselves they might be amazed at what they could do. In view of all this, I just read with much interest the new biography, Tinsley Harrison, MD: Teacher of Medicine by James A. Pittman Jr., MD. It answers many questions about the appeal of the profession of medicine.
Both of my children attended the University of Alabama School of Medicine in Birmingham (UAB), the institution that Harrison helped shape in the 1950s into the prominent place of healing it is today. A modernistic sculpture of Harrison seems to float at street level on University Avenue. The head suggests a huge brain, yet there is a gentle expression on his face that is totally absorbed in the moment. He is leaning forward. Is he at a patient's bedside? Is he thinking of a diagnosis? Is he ready to teach? There is a stethoscope, of course, held tenderly in his hands. My son and daughter frequently passed this sculpture during their four years at UAB. My son often recited Harrison's famous words, "No greater opportunity or obligation can fall the lot of a human being than to be a physician," whenever he needed courage or inspiration to continue his medical studies.
This biography was written by a medical colleague and friend of Harrison, James A. Pittman, MD. Pittman interviewed Harrison over six years and shares Harrison's recollections of the way his father practiced medicine in Talladega, Alabama (in a horse and buggy), how his father traveled and met pioneers in medicine, and how his father saw to it that Tinsley had opportunities in medicine that he did not. (I could say his father was a "tiger dad.")
This biography is for the layman as well as the medical doctor. Not only is it the story of a man who witnessed and influenced how medical schools would be structured (from hiring to funding), but it is a history of the beginnings of four major medical schools in the United States: Vanderbilt, Wake Forest's Bowman Gray, the University of Texas's Southwestern, and the University of Alabama's UAB.
In explaining the academic medical papers that Harrison wrote for publication, Pittman educates the reader about the significance of Harrison's research. One walks away with a better knowledge of the heart and infectious diseases.
Pittman's informative biography has 372 pages with an editor's note and foreword (about how the book made it into print after the unpredicted death of Pittman), illuminating footnotes in the margins of the page, an epilogue, a bibliography, and a detailed index. After dipping into the biography at various points, I finally read the entire book. The narrative is seamless, and I was able to skip over or re-read what I had read previously. What I took away was the extent to which this Alabamian, who lived a life so different from most of us, moved among the in-crowd in medicine. Harrison valued teaching above all, no matter what the subject. Time and again, he would rate his teachers from elementary school to medical school, and he had the highest respect for those who could teach well. It was his guiding principle when he hired doctors to instruct medical students.
Harrison (1900-1978) died before my children were born, yet they and many medical students still encountered versions of his Principles of Internal Medicine, which saw its 18th edition in 2011. Although Harrison edited only the first five editions, his approach to this medical textbook was revolutionary. This was to be an American, not a British, medical textbook, beginning with descriptions of symptoms instead of specific diseases, since patients first come to the doctor with complaints of symptoms. Over the course of five years, Harrison and his varied editorial board met in New York, Philadelphia, New Orleans, San Francisco, and Wyoming to actively choose content and organize the book for publication. Harrison opted to select medical essays based on their clarity of writing and not just the prestige of the authors.
During routine visits to my doctors in the last months, I started bringing along the biography to pass the time in waiting rooms. I was surprised at the enthusiasm each doctor displayed when he/she saw that I was reading about Harrison. More than one physician disappeared into another room and produced an edition of Principles of Internal Medicine. They, too, have aspired to live the words penned by Harrison, in the first edition of his book:
In the care of the suffering [the physician] needs technical skill, scientific knowledge, and human understanding. He who uses these with courage, humility, and wisdom will provide a unique service for his fellow man and will build an enduring edifice of character within himself. The physician should ask of his destiny no more than this, and he should be content with no less.
Irene Wong, Ed.D., returned to school after a brief career as a high school teacher to become an elementary school counselor.