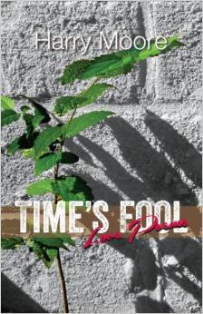 By Harry Moore
Mule on a Ferris Wheel Press, 2014
$14, Paper
Poetry
Reviewed by Penne J. Laubenthal
Time's Fool, Harry Moore's second chapbook, consists of twenty-four beautifully crafted poems that are both confessional and conversational. As a poet and a scholar, Moore acknowledges his literary predecessors, among them John Donne whose life has much in common with Moore's own. Moore pays homage in his dedication, as well as in the title of his collection, to Shakespeare, the book of Psalms, and to his wife Cassandra, their children, and grandchildren.
Grippingly honest and deeply moving, the poems in Time's Fool are by no means dark. They are celebratory and full of light, held together by hope, joy, faith, and always by love which "beareth all things, believeth all things, hopeth all things, endureth all things."
Moore writes of comfortable domesticity, of family, blended and extended, of children and grandchildren, of birth and death, love and loss, beginnings and endings. The opening poem in the collection describes an intimate moment with his wife of thirty years while watching TV on a loveseat in their home, making their "little sunroom den an everywhere" ("License my Roving Hands"), and the chapbook concludes with the poet ordering his columbarium niche at St. John's where one day their "youthful ardor spent" they will "lie side to side." ("GP Orders His Columbarium Niche at St. John's Church").
Between the couch and the columbarium the reader is privy to what takes place during those ordinary yet extraordinary events that pass so very quickly and, in retrospect, mean so very much, the unremarkable yet remarkable moments that compose our daily lives. Like Rosetti's "moment's monument," each of Moore's poems is a poetic snapshot, preserving precious moments from the past, rescuing them from the current of time.
Moore playfully refers to the speaker in his poems as "GP" for "Graveyard Poet." However, in Moore's poetry, this consciousness of the shadow of death only serves to intensify the immediate experience, to make more precious the memories, and deepen the appreciation of life itself. This modern Graveyard Poet does not dwell upon the melancholy or moribund but instead revels in the Keatsian experience of bursting "joy's grape against his palate fine." Time's Fool could be read as Moore's ode "To Autumn," each poem filled to overflowing with the bountiful harvest of his life.
Harry Moore's first chapbook, What He Would Call Them, was published in 2013. He is a recent recipient of the Maureen Egen Writers Exchange Award.
Penne J. Laubenthal, Professor Emerita of English at Athens State University, is a freelance writer living on Elk River.