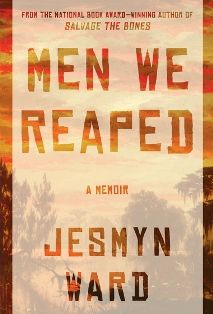 By Jesmyn Ward
Bloomsbury, 2014
$26, Hardcover
Nonfiction
Reviewed by Don Noble
If one looks casually at the writer Jesmyn Ward's vita, the impression is that she has lived a most fortunate life. Raised mainly in DeLisle, a black community on the Mississippi coast, Ward, however, had her share of hardships. Her parents fought and finally divorced; Jesmyn was bullied at school. But the family her mother worked for offered to send Ward to a local private Episcopalian school where she did well. After high school, Ward earned the BA and MA degrees from Stanford where she was a Stegner Fellow and the MFA from the University of Michigan. She later was the Grisham Visiting Writer-in-Residence at Ole Miss, where she wrote the bulk of this memoir.
Ward's first novel, Where the Line Bleeds (2008), is the story of twin brothers. Her second, Salvage the Bones (2011), published while she was teaching at the University of South Alabama, won the National Book Award even though it had just been released, there had been no reviews, and the reading public had barely seen it. The judges were rightly amazed. Candid, but in lyrical imagery, Bones captures the life of a poor black family as Hurricane Katrina looms, then strikes.
Now we have this painful, raw memoir, and it is not the story of literary and financial success, the rising out of difficult circumstances, that one expected. Although Ward is an attractive young woman of thirty-seven, with national awards and a professorship at Tulane, she writes in large part of her lifetime of depression, suicidal urges, and self-loathing, that sense of worthlessness rooted in what she saw as white culture's hatred of her and which she kept at bay with alcohol and marijuana.
Men We Reaped is an autobiography, Jesmyn Ward's life story, but is organized around the deaths between 2000 and 2004 of five young black men, four of them friends, one her brother. The deaths are distinct, but as Ward sees it, death "stalks" all black youth, especially males, and is caused, directly or insidiously, by the inequality and racism around them, by a culture which engenders in black children despair and hopelessness. The jobs are lousy, the future looks bleak and the lack of opportunity generates bad decisions. The dead young men are not angels, but they are still, basically children.
Roger Daniels dies in 2004, probably of an overdose. Demond Cook dies in 2004. Cook had agreed to testify in a shooting case and against a drug dealer and was murdered at his front door. C. J. Martin was killed in a car that crashed into a freight train in the fog. Ward remarks the safety lights and bells were in disrepair perhaps because it was a "mainly Black area." Ronald Lazana shot himself in 2002, depressed by "the degradations that come from a life of poverty."
Most devastating was the death of her beloved brother Joshua, nineteen years old, killed in 2000 by a drunk driver who was convicted only of leaving the scene and sentenced to five years. Ward writes bitterly, "This is what my brother's life is worth in Mississippi. Five years."
Men We Reaped is distressing to read and was clearly distressing to write. One can hope there was a healing in the telling and look forward to whatever this extraordinary writer decides to do next.
Don Noble is host of the Alabama Public Television literary interview show Bookmark and the editor of A State of Laughter: Comic Fiction from Alabama. This review was originally broadcast on Alabama Public Radio.