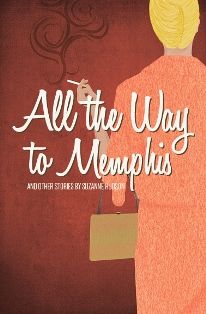 By Suzanne Hudson
River's Edge Media, 2014
$16, Paper
Fiction
Reviewed by Don Noble
Suzanne Hudson is the author of three novels, In a Temple of Trees, In the Dark of the Moon, and Second Sluthood, but her career was launched when judges, including Toni Morrison and Kurt Vonnegut, Jr., chose the story "LaPrade" as the winner of the 1976 Penthouse fiction contest.
She has published stories regularly ever since, with one previous collection, Opposable Thumbs. This volume, All the Way to Memphis, contains nine stories previously published and one brand-new, "The Good Sister."
Hudson's stories, set in the South, have usually shown the influences of her acknowledged mentors: Eudora Welty, Carson McCullers, and, most of all, Flannery O'Connor. The narrators are usually women, often betrayed, furious and bent on revenge.
Some of these tales are hilarious, if bizarre.
In "The Fall of the Nixon Administration," CeCe's widowed mother has married a young tobacco-chewing good ole boy and Vietnam vet, Will Luckie, who pleasures her often and everywhere.
CeCe is horrified and embarrassed, people are talking, but matters get worse when she finds Luckie in flagrante with her "limp-wristed Baptist husband." Luckie is insouciant and crooks his index finger at CeCe in a gesture of invitation. CeCe shoots Luckie's beloved chickens, which he has named Haldeman, Erlichman, Martha Mitchell, etc.
Clista in "All the Way to Memphis" has no better marital luck. A pretentious, sixty-something, tightly wrapped librarian, Clista's daily wardrobe consists of "tailored suits in every shade of beige so that the coral lips and nails, with matching pumps, her trademark, would stand out all the more, her platinum-dyed hair double-French twisted in a tight, inwardly curling labial sheen, a la Tippi Hendren.…"
Clista wears a girdle, which prompts her colleagues to ask "with the clips and all?" and "They still make those?" To which Clista answers, "I have always believed in stocking up." Although Clista and her husband had not been "intimate" for years—"Clista had always found that particular expression of human instinct to be distasteful at best, more of the time disgusting"—when she discovers her husband, Paul, has a lover, Spenser Kraus, an old Navy buddy he goes fishing with, she shoots him twice and flees town in her immaculate, champagne-colored Cadillac.
Other stories are in the Southern Gothic/grotesque tradition, complete with missing or mutilated body parts, mental retardation, and, to a degree, found in McCullers but not Flannery or Eudora (ladies both). Hudson's stories are violent and erotic, filled with rape, incest, pedophilia, assorted misdemeanors. Not funny.
"LaPrade," her Penthouse- prize story, tells of Missy, fifteen, and her sixty-year-old father, in isolated rural Georgia. Three years earlier, Mom, Charmaine, either committed suicide or faked it and made her escape.
LaPrade, the dad, is retarded and has relations, called here "business," with his daughter regularly. He buys her little gifts, like pop beads. She doesn't mind much but he has taken to hurting their baby and must be punished, which she does by tethering him to a fencepost with a rope around his neck.
He occasionally forgets, runs to the end of the rope and crashes to the ground.
Although Hudson doesn't mention them, Erskine Caldwell and Truman Capote must be influences too. In Caldwell's God's Little Acre and Tobacco Road, of course, crude sex and retardation abound, and in Capote's "House of Flowers," set in Haiti, young Ottilie is tied to a tree each day when Royal, her boyfriend, goes to work. She is content. They are in love.
"Opposable Thumbs" is also serious business. The protagonist, a young girl named Kansas, has been reading that the development of thumbs was crucial to human evolution: "When the apes turned to cave men and our brains got big, we could do all sorts of stuff, like art, because of our thumbs." However, in this Southern town, a hotbed of racism, violence, lynching, and general meanness, there are two severed thumbs. Devolution, not evolution, is under way.
Hudson's gothic tales are startling, powerful and sometimes hilarious, but in the tradition essentially of the Southern renascence.
With "The Good Sister" and "The Seamstress," Hudson has come more into the present and turned in a new direction.
"The Good Sister" is a story of child abuse. Sister actually sees the abuse of her thirteen-year-old brother by a priest in the sacristy through a partly open door. Her brother seems to be wounded and subdued after this but, discovering his love of literature while in the service, becomes a university instructor. When his marriage fails and he divorces, his sister fears his soul is "in grave jeopardy." Not surprisingly, he is not convinced. The effect of her shame and guilt at not having protected her younger brother has haunted her and injured her, it seems, more than it has her brother who was, after all, the victim.
Celeste is "The Seamstress," skilled creator of Mobile Mardi Gras gowns for upper-class ladies and those struggling to climb to the top shelf. She dislikes the first group "with a fierce purity." She hates the second group, "Mrs. Wilson and her ilk a million times more, hated their hungry grabs at that higher station in life.…" Hudson slices the class layers like samples for a microscope slide.
During fittings, Celeste must literally kneel at their feet while enduring condescension and even insult.
Mrs. Wilson tells her, "Anybody and their sister can make a dress. Lord, I bet retards make them in factories all the time. I mean, the real flair is in the wearing of it, don't you think?" The reader slowly learns, as does the pudgy and pompous Mrs. Wilson, that Celeste was herself originally from the plantation class and she will have her revenge.
No incest, no murder, and "The Seamstress" approaches Jamesian in subtlety and effect. More in this vein would be welcome.
Don Noble is host of the Alabama Public Television literary interview show Bookmark and the editor of A State of Laughter: Comic Fiction from Alabama. This review was originally broadcast on Alabama Public Radio.