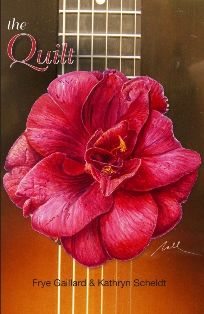 By Frye Gaillard
and Kathryn Scheldt
Solomon & George, 2012
Paper, $19.95
Nonfiction
Reviewed by Edward Reynolds
Alabama lays claim to an amazing array of musical talent, from the "Father of the Blues," W. C. Handy, to premier country music icon Hank Williams Sr. In Frye Gaillard and Kathryn Scheldt's The Quilt and the Poetry of Alabama Music, stories of the rich and famous are shared alongside those of songwriters and musicians who never saw their names in lights. Regardless, the state's obscure musical talent proudly carries on the beloved tradition of songwriting as brilliantly as that of the stars who inspired them.
Born in Florence, Ala., in 1873, W.C. Handy eventually relocated to Memphis to start a publishing company for black and white musical artists. The importance of such is not lost on author Gaillard, who stresses that Handy was convinced that "music could be the universal reprieve from the racism that he saw all around." A white Florence native, Sam Phillips, founded Sun Records in Memphis in 1950. Thanks to a white kid named Elvis Presley, Phillips embraced a slightly different approach to race and recording than Handy, however. Sun Records studio initially recorded black blues artists such as Howlin' Wolf and Bobby Blue Bland, but Presley changed that. He sang white music black and black music white.
The city of Florence in north Alabama was a wellspring of musical visionaries. A trio of musicians named Rick Hall, Billy Sherrill, and Tom Stafford opened a studio in town where they recorded "You Better Move On" by Arthur Alexander, who lived a few miles away in Sheffield. Alexander was a musical anomaly—a black man who was as adept at country as he was singing and writing blues and soul. Rick Hall took the money earned from Alexander's recordings and built FAME Studios in Muscle Shoals. Soon the tiny town became one of the recording hot spots in America, introducing the world to Percy Sledge and Clarence Carter, among others.
Gaillard introduces Scheldt, the book's cowriter, as she performs in Georgiana, Ala., at a Hank Williams festival. Scheldt sang her composition "Rufus and Hank," inspired by Rufus Payne, the African-American singer who had tutored a teenaged Hank Williams in the blues. The Quilt is not only about the poetry of song lyrics but also music's role in bringing the races together, blurring the boundaries that once so strictly existed.
It was not the first time Gaillard had heard Scheldt sing. That introduction took place on a Sunday morning in a Mobile chapel in the weeks immediately following Hurricane Katrina. He was captivated by her approach to Americana music—a genre blending folk, blues, and country. He would eventually co-write songs with Scheldt.
Gaillard reveals a couple of surprise musical footnotes: Dick Holler, who wrote "Abraham, Martin and John" in 1968 about the assassination of Robert Kennedy, had an earlier hit with the novelty tune "Snoopy vs. the Red Baron"; In 1963 Joan Baez recorded a live performance of the civil rights anthem "We Shall Overcome" at Miles College in Birmingham.
About halfway through the The Quilt, Scheldt begins her contributions to the book with the chapter Stories. She writes, "Stories form the fabric of our lives . . . the shapes and patterns . . . the colorful things we do with them and the threads that hold them together . . . the way we spin the yarn." After a leftover bag of her great aunt's quilt scraps were sewn into a quilt, Scheldt, Frye Gaillard, Nancy Gaillard, and Wet Willie guitarist Rick Hirsh wrote the song "The Quilt." But the lyrics and accompanying anecdote that touched this reader the most is Scheldt's "Mama's Lullaby." She writes of her mother changing some of the words in the childhood prayer "Now I Lay Me Down to Sleep" because the prayer gave her nightmares. Scheldt sings: Mama tucked me in that night, she said "It's time to say our prayers" / I said I didn't really want to do it . . . that I was really scared /"What's God gonna do with my soul if I should die?" / She held me close and said, "now baby, there's no need to cry . . . Just close your eyes and go to sleep / Pray to God your soul to keep / Guide you through the starry night / And wake you with the morning light."
Gaillard and Scheldt write brilliantly of the passions that inspire the lyrical content of a tune. It's one of the better books you'll read about the fine art of songwriting. And the book's cover is illustrated by another famed Alabama bred artist, Nall.
Edward Reynolds is a writer living in Birmingham.