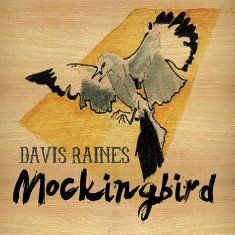 By Davis Raines
CD Baby, 2014
$9.99, Compact Disk
Music
Reviewed by Katie Jackson


How in the world does one write well about an exceptional piece of writing?
That was the dilemma faced by Davis Raines and Frye Gaillard when they agreed to pen a song about the book To Kill a Mockingbird. It was also the quandary I faced when trying to write a review of Mockingbird, the album that song inspired.
Raines and Gaillard, both Alabama natives with exceptional writing credentials of their own, were recruited by AUM English professor Nancy Anderson to write the song for a 2013 conference she was hosting in Monroeville on Harper Lee's celebrated book. The two readily accepted the assignment but soon realized that writing about an iconic novel was a daunting task.
Raines and Gaillard decided to take a play from the songbooks of Guthrie, Haggard, Kristofferson, and Springsteen (the "great ones," as Gaillard says) who all wrote songs about The Grapes of Wrath by writing less about the book and more about its past and present place in our culture. The result is "Mockingbird," a song that pays elegant homage to Lee, her characters, and her story while celebrating the progress we've made since the book was published and lamenting how far we still have to go.
After co-penning that song, Raines went on a Southern-infused, Alabama-centric creative binge and soon, writing alone and with others, he had an album's worth of songs that needed to be recorded. Recorded they were on Mockingbird thanks to a $5,000 grant from the Alabama State Council on the Arts.
When the album was released earlier this year, I readily volunteered to write a review of it. I've been a Raines fan for years and have always been proud that such a fine songwriter sprang from the soil and soul of Alabama. Though he left the state and his job as an Alabama death row prison guard some twenty years ago for Nashville to follow his long-calling literary and musical muses, he's still deeply rooted in his Alabama history, something that is obvious on many of this album's songs. So what a treat, I thought, to write about a native son whose work I so admire.
Then I listened to Mockingbird and realized that I, too, had taken on a daunting task. How could I pay homage to this collection of well-written, well-sung stories? After many drafts of this review, I finally realized I had to focus on the album's place in our own—my own—cultural history.
For me, listening to Mockingbird is like listening to a conversation around my family's dinner table where stories are infused with a familiar, often personal, history and accents.
Mockingbird combines Raines's literary voice, so obvious in his straightforward but poetic lyrics, with a singing voice I love, an unvarnished songwriter's sound filled with vulnerable quaver, invincible rollick, and an Alabama twang and drawl. But it is his subject matter that matters most to me.
Many of the thirteen songs on this album are universal to the human condition, especially for those humans who love the country/blues/roots music tradition—songs about run-away and reputation-ruining women, a melancholy Elvis, jive-filled juke joints, a take-no-jive lawman, and love and faith, both lost and found.
But it's the many indigenous songs on this album that make it so special—important, actually—to me. In "Mockingbird" and other songs, Raines captures our history and culture by taking us on a lyrical journey through Alabama and the South: to the iconic street of Alabama's Muscle Shoals Sound, back in time to a gone-but-not-forgotten "50,000 watts of magic" radio station that provided the soundtrack for many a central Alabamian's coming-of-age years, to the story of a brother-against-brother rivalry (the sports kind), and on a culinary tour of Southern flavors.
To write about such good writing is no easy task, but to listen to those words and stories delivered in the voice of their fine author, that's easy. Just give Mockingbird a listen!
Katie Jackson is a freelance writer, editor, and photographer based in Opelika, AL.