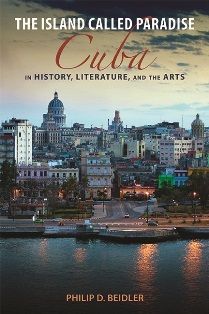 By Philip D. Beidler
The University of Alabama Press, 2014
$34.95, Hardcover
Nonfiction
Reviewed by Don Noble
Over a long career, Beidler has written analyses of early American and Alabama literature, sweeping commentaries of the literature of World War II and Vietnam, a number of powerful personal essays based on his experiences as a lieutenant in Vietnam and, most lately, in American Wars, American Peace (2007), savage, outraged appraisals of American political leadership and foreign policy.
To all this he brings considerable skill as a cultural critic, usually of the U.S. But here the subject is Cuba.
The thirteen essays of Paradise, the result of several trips to Cuba (under the auspices of the Cuba initiative of the University of Alabama) and a prodigious amount of reading, constitute an informal history of Cuba. Beidler takes us from Columbus through Spanish rule; rebellion, especially the Spanish American War, called there La Intervencion; the U.S.-backed corrupt and vicious dictatorship of Fulgencio Batista; the Castro revolution; Cuba's betrayal and abandonment by Russia at the collapse of the Soviet Union, called by Cubans El Periodo Especial, right through to the present moment.
Beidler places prime importance on his first and last chapters. In the first, a long explication of the novel Cecilia Valdes by Cirilo Villaverde, he asserts that the novel, little-known in America, and its tragic mulatta heroine, is an emblem of Cuban history, the "social mores, racial attitudes…economic and class relationships…food and drink, literature and art."
In short everything.
The last chapter is a paean to Yoani Sanchez, courageous Cuban blogger, who has suffered harassment, arrest, even beatings, posting since 2008 thousands of blogs describing life in contemporary Cuba. She has a million reader comments and is translated into twenty languages. The lesson: The Internet has changed everything. Dictatorship will never be the same.
As important as those two writings may be, most readers will prefer the essays on Desi Arnaz, Ernest Hemingway, Che Guevara, Graham Greene, Martin Cruz Smith, Steve Allen, Walker Evans and other more familiar subjects.
We knew Arnaz was Cuban. Beidler reminds us that Desiderio Alberto Arnaz y de Acha III was a shrewd businessman; Desilu produced The Untouchables and then, although Lucy had bought out Desi in 1962, the company he had organized produced The Dick Van Dyke Show, The Andy Griffith Show, The Real McCoys, and many others. Arnaz was also a considerable musician, singer, actor, and orchestra leader. Few knew Arnaz was from a family of "great social prominence and political importance." His grandfather was a founder of Bacardi rum and his father was the mayor of Santiago de Cuba, the country's second-largest city.
Beidler even explains Arnaz's signature piece, "Babalu!"
Both Ernest Hemingway and Ernesto "Che" Guevara are heroes in today's Cuba, non-natives who chose it for their home and brought worldwide attention to the island. Both are now, Beidler says "brands." Che is the man of revolution, youth and courage. Hemingway, who was called "Papa" by the time he moved to his farm outside Havana, is seen as the man of endurance, with the fisherman/hero Santiago of The Old Man and the Sea especially beloved.
As much as Beidler tries to praise Hemingway, his politically correct, long-standing irritations burst forth. Hemingway was guilty of "swaggering exhibitions of maleness" and was "finally undone by his own bogus cult of heroic personality, a death by suicide with paranoiac delusions about the Internal Revenue Service."
The Cubans admire him anyway. The novelist Graham Greene, not so much.
Greene's masterpiece, Our Man in Havana, spoofed cold war spy networks but "refused to take very seriously either the tyrannies and torture of the Batista regime or the heroism and sacrifice of the revolution."
He is not forgiven.
Beidler also offers a detailed explication of Martin Cruz Smith's thriller/murder mystery Havana Bay, set in the desperate period following Soviet abandonment. Conditions in Cuba are as terrible as conditions in Russia, and the Cubans feel almost as much anger at Russians, represented by Smith's Detective Renko, as they do towards Americans.
In his essay on the monster Batista, Beidler discusses his pleasant residency in Daytona Beach, between his periods of brutal dictatorship, 1944-48 and then 1952-59. Batista played tennis at the Daytona Beach Bath Club and Tennis Club and gave occasional speeches to the Rotary Club.
Beidler includes a bizarre and comic description of the Steve Allen Show the night in January 1958 it broadcast live from Havana to celebrate the opening of the Riviera Hotel. The show starred Steve Lawrence, Edger Bergen, Lou Costello, Louis Nye, Tom Poston, Mamie Van Doren, and a raft of musicians and dancers.
American gangster Meyer Lansky was the primary owner. The mob was building hotels in Las Vegas and Havana in this period and desired the publicity.
Beidler sees this extravaganza as "a kind of absurd popular culture coda to a long tradition of U.S. entertainment and entertainers partaking of the allure and opportunity of an exotic Cuban setting." On New Year's Eve of 1958, that same year, Fidel entered Havana, closed the casinos and nationalized the hotels. Cuba as America's naughty playground was closed.
Don Noble is host of the Alabama Public Television literary interview show Bookmark and the editor of A State of Laughter: Comic Fiction from Alabama. This review was originally broadcast on Alabama Public Radio.