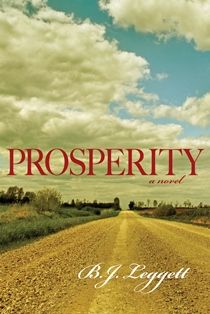 By B. J. Leggett
Livingston Press, 2014
$32, Hardcover; $18.95 Paper; $7.95 Kindle
Fiction
Reviewed by Mollie Smith Waters
B. J. Leggett has written extensively about academic subjects such as authors A. E. Housman, Philip Larkin, and Wallace Stevens. His latest novel, Prosperity, is only his second fictional book. In Prosperity, Leggett introduces readers to a world of crime and a corrupt police force.
Police Lieutenant Robert O'Brian, or Shake as his co-workers call him, is well-known in the Knoxville police force for two reasons. First, he is the author of a best-selling crime novel, and second, he was recently wounded in action. After recuperating from his injuries, O'Brian decides to retire from police work and return to his hometown of Prosperity to pursue writing full-time. His decision coincides with the death of his former best friend, the wealthy Bradley McLean. Bradley's death is ruled a suicide, but the circumstances are suspicious. Bradley's sister, Jesse, believes he has been murdered, so she asks O'Brian to check into things. Although his history with the McLeans is strained, O'Brian agrees and ends up in the middle of a difficult situation that threatens his own life as well.
The driving force behind Prosperity's success as a novel is a good backstory. When O'Brian and Bradley were teenagers, Bradley killed a man while drinking and driving. Yet, the influential McLeans use their power and influence to convince O'Brian to take the fall. Since then, O'Brian has harbored resentment towards the family, and he rightfully believes that his reputation in the town of Prosperity has been forever tarnished because of them. The knowledge of O'Brian's history with the McLeans makes the reader wonder why he would want to help people who have only ever used him as a doormat.
Although the backstory is solid, the book does have a few worrisome issues. For one, the story is told from O'Brian's viewpoint. While this is not a problem and the choice helps to move the action along, there are times when the author employs a type of aside through the use of parenthesized information. The asides are the character's musings and explanations of events, but they are not needed because the author is already employing first-person narrative.
One other issue is when the major detective work is done at the end of the book, it happens off-page, forcing the main investigator to relay the events to O'Brian after the fact. The author needs to employ more "show, don't tell" techniques to prevent the plot from slowing down at the end.
Coming in at 212 pages, the book is short, but entertaining. Leggett certainly has the ability to create an intriguing tale, and although a little more depth would not hurt the story, Prosperity is an amusing read.
A teacher for fifteen years, Mollie Smith Waters also writes book reviews for Bookkaholic and Southern Literary Review.