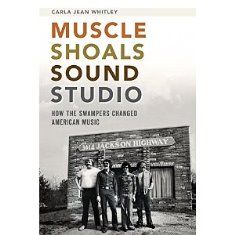 By Carla Jean Whitley
The History Press, 2014
$19.99, Paper
Nonfiction
Reviewed by Don Noble
Towards the end of her short history, Muscle Shoals Sound Studio, Birmingham magazine managing editor Carla Jean Whitley discusses the new documentary Muscle Shoals, which premiered at the Sundance Film Festival.
This doc, a mixture of interviews with musicians such as Aretha Franklin and Mick Jagger and a "soundtrack that highlights some of the best of the Muscle Shoals sound" has brought attention back to the recording studios and their amazing history and also, happily, boosted tourism at the Alabama Music Hall of Fame.
Like many people, I suppose, I was familiar with these lines from the Alabama State Anthem, "Sweet Home Alabama," by the Jacksonville, Florida, band, Lynyrd Skynyrd:
"Now Muscle Shoals has got the Swampers/And they've been known to pick a song or two/Lord they get me off so much/They pick me up when I'm feeling blue/Now how about you?" You all know the chorus.
But who the Swampers were exactly was a mystery.
I only vaguely knew that the Shoals area had been an important recording center and that a number of well-known artists had made records there, desiring what is called The Muscle Shoals Sound.
Admittedly, I know as little about rhythm and blues as I do about basketball, but after Whitley's book I know more and am considerably impressed.
The Sound Studio "was founded in a former casket warehouse in Sheffield, Alabama in 1969."
There was already a strong musical tradition in the area. Percy Sledge, who was a hospital orderly, in 1966 recorded his hit "When a Man Loves a Woman" at Quin Ivy's studio. Wilson Pickett and Clarence Carter had recorded at FAME Studios (Florence, Alabama Musical Enterprises).
North Alabama was, in those years, the spawning ground for many small studios and hosts of musicians, but Whitley focuses on The Swampers. These four musicians who made up The Muscle Shoals Rhythm Section left FAME to open their own place at 3614 Jackson Highway, where they created the Muscle Shoals Sound, "a blend of rock, rhythm-and-blues and country music."
They were also music publishers and arrangers. They helped rewrite and improvised. The room itself, with a gently sloping floor and burlap on the walls, had a distinct sound, sometimes called "swampy," sometimes called "funk."
Whitley stresses that "at Nashville the three hour session was sacred." If you rented three hours of studio time that was it. At the Studio they would work on a tune late into the night, if necessary, staying "until they get the sound they're looking for."
Word spread, of course.
Cher recorded there in 1968. R. B. Greaves recorded his hit "Take a Letter, Maria" in 1969.
And in that same year the Rolling Stones arrived for three days. The first night they recorded "You Gotta Move"; the second "Brown Sugar," which went to number 1; the third "Wild Horses."
Books like this are filled with odd bits. One of the reasons the Stones and others accomplished so much was, in a dry county with no bars or clubs, there was absolutely nothing else to do. Whitley writes: "interview a musician from rural Alabama and it's likely he or she will tell you boredom is at the root of the music."
In any case, stars arrived and sang. Lynyrd Skynyrd recorded an early version of "Free Bird," The Staple Singers did "Respect Yourself." Willie Nelson, Paul Simon, Art Garfunkel, Bob Segar, Boz Skaggs, Joe Cocker, Joan Baez, Peter Yarrow and JJ Cale all came, and perhaps most unusually Bob Dylan, who recorded two albums in Alabama: Slow Train Comin' and Saved.
The Shoals, even in turbulent '60's Alabama, was a kind of racial oasis.
Rod Stewart, among others, was surprised that the Rhythm Section members were white Alabama boys. One of the Swampers, David Hood, says, "We looked like guys that worked at the supermarket or something."
This small confusion was meaningful in a larger sense as well. Race really didn't matter at Muscle Shoals; only creating first-rate music mattered. The "walls were lined with gold and platinum albums….The Rhythm Section created more than fifty such hits at the studio." (Gold indicated 500,000 in sales; platinum 1 million.)
Through fresh interviews with musicians and considerable research online and in newspaper files, Whitley has generated this compact history. Admittedly most appealing to aficionados, this book will teach any reader a good deal about a section of Alabama often overlooked.
P.S. Like so much of American culture, Muscle Shoals was damaged by disco starting in the late '70s and slow to recover.
Don Noble is host of the Alabama Public Television literary interview show Bookmark and the editor of A State of Laughter: Comic Fiction from Alabama. This review was originally broadcast on Alabama Public Radio.