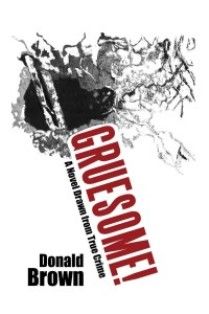 By Donald Brown
Borgo Publishing, 2014
$10.95, Paper
Fiction
Reviewed by Don Noble
Well known to Alabamians as a nonfiction writer, Donald Brown has been executive editor of both the Florence Times-Daily and the Tuscaloosa News, and he has written histories of Tuscaloosa's First United Methodist Church, The Tuscaloosa Rotary Club, and of his alma mater, Birmingham-Southern College.
As he explains in an afterword, Brown, as a reporter for the Birmingham News, covered this crime in southwest Alabama. He had not covered the first trial, in which the conviction was reversed on a technicality, but was assigned to cover trials two and three of the same killing.
He might have written this book as nonfiction or as a nonfiction novel in the manner of Truman Capote's In Cold Blood, with a strict adherence to accuracy and the names not changed. I'm not sure much is gained by his decision, but Brown instead chose to tell this story as true-crime fiction and, perhaps, avoid whatever blowback might have come from naming names.
For his narrator/protagonist he invents a young Birmingham News reporter, Dan Anderson, to tell the story.
A veteran reporter looking back, Anderson first fills in the reader on his story. He was abandoned by his mother at four, raised by his grandmother, rejoined his mother at twelve and was then ignored by his father.
Anderson is happily married, with children, when he is sent to fictional Henderson County to cover the killing, but emotionally insecure and it seems, overly receptive to female overtures.
Some of the facts of the case seem clear, although not absolutely. In 1959, a powerful local man, John Ed Tomlinson, lumber magnate, has a wife, Jo Dell, and four children but has fallen in love with Sarah Davis. She knows he's married but can't help herself. "If he wanted me, it was mutual, and I was his for the taking," she says.
John Ed might have just gotten a divorce but, of course, doesn't. He takes Jo Dell out in the woods. There is a rifle, a struggle, maybe. The rifle goes off, Jo Dell is killed, and John Ed throws her body down a convenient abandoned well and then returns to town. Telling people that Jo Dell is at the moment on Dauphin Island, he has a party at his own house while his mother-in-law, back in the bedroom, minds the children. He also tells people that Jo Dell is having an affair.
After four days, Tomlinson finally tells his story and is arrested. He claims self defense in the shooting and temporary insanity for throwing Jo Dell down the well and lying about her.
The novel is the story of the trials and, since there are three, suffers some from repetition.
Brown does a little sociology along the way, examining the local feelings towards Tomlinson's power—sometimes fear, sometimes resentment—and the mores of the community generally.
Also on the plus side is Brown's finest creation, Strudwick Bowden, defense attorney, the best in the state. Strudwick happily likens himself to Coach Paul "Bear" Bryant and thinks, the night before the trial, "Henderson County, even the state of Alabama, had never heard the persuasive force he would unleash upon this jury."
He has a barber come to him in Butler and shows up in court splendidly attired, down to "black patent lace-ups." The hicks are dazzled, as he intended.
Oddly enough, since there were no witnesses, the jury might have acquitted Tomlinson, but they are unforgiving about his besmirching of Jo Dell's good name, and, of course, the well.
Don Noble is host of the Alabama Public Television literary interview show Bookmark and the editor of A State of Laughter: Comic Fiction from Alabama. This review was originally broadcast on Alabama Public Radio.