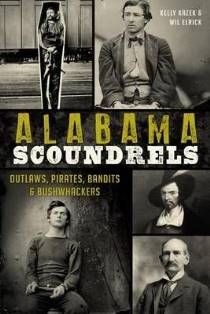 By Kelly Kazek & Wil Elrick
The History Press, 2014
$19.99; Paper
Nonfiction
Reviewed by Don Noble
Alabama Scoundrels is a short book, 122 pages, of brief sketches of twenty-two Alabama miscreants. Most of the scoundrels of the title are criminals, usually killers of some type and usually nineteenth century, although a few go back further, to before statehood in 1819, when Alabama was part of the Mississippi Territory.
The very last chapter, on pirates, is chronologically first. We're told "Gasparilla," Jose Gaspar, reportedly "buried several chests of pirate loot at various locations in Mobile Bay." Jean Lafitte, a highly organized Gulf pirate, may have "buried $80,000 in gold coins on a beach in Bayou La Batre."
The above should spur sales of metal detectors.
The authors include a few pretty famous killers one had not associated with Alabama. Frank and Jesse James, Missourians, fought with Quantrill's Raiders in the Civil War. Legend says they robbed the Huntsville bank in 1876, but the authors doubt this. Jesse was shot dead by Bob Ford in Missouri, but Frank was brought to trial in Huntsville, acquitted, and then spent the next thirty years as "a shoe salesman, ticket-taker at a theater and a telegraph operator."
The notorious John Wesley Hardin killed twenty-seven men, the first when only fifteen. One man he killed "for snoring." For a while the handsome Hardin lived as a farmer in Pollard, Alabama. No one suspected. It is said he looked like a "college professor."
Apparently, post-criminal career changes were not uncommon. After a long criminal career Hardin served six years in the pen in Huntsville, Texas. He studied and planned to start a law practice when released.
A number of the murderers discussed in this book were caught and lynched, which is of course wrong, but faith in law enforcement officers and jails was understandably low.
Dan Bogan, incarcerated in Tascoa, Texas, was slipped a file and escaped after sawing through the iron bars. In jail in Cheyenne, Wyoming, he did it again. The "Outlaw Sheriff" Steve Renfrow had two presumably healthy young wives die mysteriously, at ages twenty-two and nineteen. In 1885 he escaped from the Tuscaloosa jail, and was later hanged in Livingston.
An outlier in this volume was Railroad Bill, real name perhaps Morris Slater, an African American who hung around tracks and rode trains in south Alabama. Bill was accused of killing a deputy sheriff in Bay Minette and then, as fugitive, robbed trains and, Robin-Hood like, gave the loot to the poor, black and white. His story has inspired songs and a Broadway musical. Bill even became a superhero able to shape shift or disappear.
Depending, I guess, on your politics, Albert Parsons should not be in this book at all. Originally from Montgomery, Parsons became an advocate for the eight-hour work day and ended up in Chicago where he published various leftist newspapers. During a labor strike, police killed four demonstrators. In a subsequent protest in Haymarket Square a bomb was tossed, killing a police officer. Police fired again killing seven. Parsons and six others were convicted of conspiracy, for speeches and articles that presumably inflamed the bomber, who may in fact have been an agent provocateur of the Chicago authorities. Parsons, though probably innocent, was hanged on Nov. 10, 1887.
This book is history light for the common reader; the style is not elegant, and the sources for these stories are usually newspaper and magazine accounts, the Encyclopedia of Alabama, and in some cases books of history or biography, but there are entertaining bits and these sketches can provoke further reading.
Don Noble is host of the Alabama Public Television literary interview show Bookmark and the editor of A State of Laughter: Comic Fiction from Alabama. This review was originally broadcast on Alabama Public Radio.