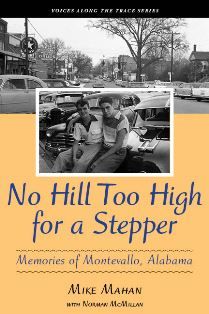 By Mike Mahan
with Norman McMillan
NewSouth Books in Cooperation with The Cahaba Trace Commission, 2014
$27.95, Hardcover
Nonfiction
Reviewed by Danny Gamble
Complete disclosure: A Montevallo resident, this reviewer is acquainted with both Dr. Mike Mahan and Dr. Norman McMillan.
Not every Southern boy has a spring-fed swimming hole at the end of his street, a woman's liberal arts college—known as the Angel Farm—at the other end, and Frog Holler—once a place for illegal horse races, boxing matches, Battle Royals (last black man standing won the pot while the white men stood by & bet), and cock fights, but much later "a perfect playground"—in the middle. Local boy Mike Mahan had all of this and more, and he writes extensively about it in this new memoir No Hill Too High for a Stepper: Memories of Montevallo, Alabama.
The title comes from Red Mahan, Mahan's philosopher barber father, quick with advice and just as quick with his belt when Mike did something boneheaded such as shooting a friend out of a tree with a slingshot. His mother, Ethel, was "beautiful, talented, caring, and always ready to help." Ethel ran a beauty shop in the rear of Red's Bob-er-shop, a name owing to the fashion of the day in young women's hairstyles. "If Red were in perpetual motion," Mahan writes, "my mother Ethel was as steady as the North Star."
From Red, Mahan developed a passion for music, a fondness for strong drink, and a devotion to mischief. Ethel's gift? That's anyone's guess.
No Hill Too High for a Stepper begins with a pathetic fallacy worthy of Pecos Bill. Mahan writes, "June 29, 1934, was a dark, threatening day. There was a churning and rumbling in the west as Ethel entered the hospital and the sky got darker and darker as the labor progressed." About the time the tornado hit South Highland Infirmary on Birmingham's Southside, out popped Stanley Michael Mahan. He hasn't slowed down since, and his witty memoir proves it.
The book's early chapters offer a roll call of ancestors, relatives, and childhood friends. This prose often gets as tedious and confusing as St. Matthew's "begats" to the casual reader, but anyone named Mahan or Klotzman or Givhan or Mahaffey or Jeter or Baldwin or DeSears will relish Mahan's memories, especially since they are the stars. (And the memoir offers many photographs to prove it!)
The book, though, is not simply Mahan's personal diary. It is a universal bildungsroman of many a young boy's growing up unsupervised in the South of the mid-twentieth century. Take the rivalry between the working class kids of Mahan's Shelby Street and the posh residents of Highland Avenue, some four blocks across town. Then there's the coming-of-age kissing games such as "candy" and "pass it." And what adolescent boy hasn't enjoyed cruising in cars with teenage girls?
The best parts of the memoir are the anecdotes that actually carry a narrative arc. There's the dead chicken snake in the water oak tree, Mike's "running away" to join the circus at age ten, and an ill-fated trip to Gatlinburg. Here, in its rising and falling action and deft description one can see the hand of ghostwriter Norman McMillan.
Refreshing in its political incorrectness, No Hill To High for a Stepper captures a social and linguistic glimpse at a bygone era, the time between the wars—War of 1812-Vietnam--a time of phenomenal change in America, a period that saw the fall of the homogenous small town and the rise of the heterogeneous metropolis. With his many relatives and many rambles, Mahan was at home in both.
Personal in character, universal in theme, No Hill Too High for a Stepper—with neither nostalgia nor sentiment—memorializes the friendships, the romances, and the recollections of a common past. July 2014
Danny Gamble is Communications Director of the Alabama Writers' Forum.