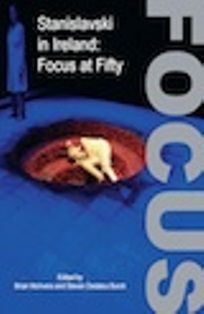 Stanislavski in Ireland: Focus at Fifty
By Brian McAvera and Steven Dedalus Burch, eds.
Carysfort Press, 2013
$27, Paper
Breaking Boundaries: An Anthology of Original Plays from the Focus Theatre
Steven Dedalus Burch, ed.
Carysfort Press, 2013
$27, Paper
Nonfiction
Reviewed by Nicholas Helms
Founded in 1963 by the Irish American actor Deirdre O'Connell, the Focus Theatre of Dublin brought Stanislavskian method acting to Ireland and challenged the country's parochial preconceptions about theatre. Two recent works chronicle the life of Focus Theatre: Stanislavski in Ireland: Focus at Fifty, a collection of essays that serve as biography of the Focus Theatre and of its talented and eccentric founder, Deirdre O'Connell, edited by Brian McAvera and University of Alabama theatre professor Steven Dedalus Burch; and Breaking Boundaries: An Anthology of Original Plays from the Focus Theatre, a collection of Focus Theatre's work, edited by Steven Dedalus Burch. Together, these volumes put a microscope to the theatre of Dublin in the 20th and early 21st centuries, charting the type of regional theatre work that, despite its far-reaching influence, so often goes unrecorded. Together they sketch a lively narrative of a theatre that produced high quality work for fifty years while scraping by economically and struggling against the established theatres of Dublin. O'Connell's Focus Theatre revolutionized Irish theatrical practice, and these two volumes chronicle the far-reaching—and often unremarked—effects that a small theatre on the fringe of the mainstream can have.
Stanislavski in Ireland: Focus at Fifty includes a history of the Focus Theatre under Deirdre O'Connell by Mary Moynihan; a recent history of the theatre in the 21st century by current artistic director Joe Devlin; an overview of acting styles in 20th century Ireland by Steven Dedalus Burch; a series of remembrances by Mary Moynihan, Elizabeth Moynihan, Mary Elizabeth Burke-Kennedy, Jimmy Murphy, Brian McAvera, Kevin O'Brien, Ronan O'Leary, and Joe Devlin; and a collection of interviews conducted by Steven Dedalus Burch.
Deirdre O'Connell, born in America in 1939 to Irish parents, studied under Lee Strasberg for five years at the Lee Strasberg Institute in New York City. She moved to Dublin in 1963 and that April created the Focus Theatre's Acting Studio, which later opened its doors as the Focus Theatre in 1967 with Doris Lessing's Play with a Tiger. She worked as the artistic director of Focus until her death in 2001, after which Joe Devlin took up the position. As Brian McAvera notes, Deirdre O'Connell "cleared away (or cleansed) Irish acting of its nineteenth century melodramatic roots to give naturalistic acting room to breathe; and then Joe [Devlin] came along and introduced non-naturalistic work, broadening the baseline." Deirdre O'Connell accomplished this feat through weekly improvisation workshops in Stanislavskian method acting, building a company from the ground up in Focus's early years and then continuing to develop that company throughout the lifetime of Focus.
The eclectic collection of works in this volume, from history to interviews, from essays on aesthetics to character portraits of Deirdre O'Connell, keeps the reading fresh and fluid. The story of Focus Theatre is well documented within the volume—including a lengthy set of appendices on the Theatre's performance history—but the variety of perspectives keeps that story from feeling monolithic or static. Instead, the collection assembles a series of snapshots of Focus, touching on Deirdre O'Connell's life and leadership, the experience of actors in the studio, the society and politics of Dublin theatre, and the various styles brought under the rubric of Stanislavsky's method. Joe Devlin's lengthy essay on the more recent stylistic forays of Focus feels digressive at times, but it also reveals the enthusiasm of Focus Theatre's leadership. Though Deirdre O'Connell left behind no writings suitable for the volume, her perspective is well represented by interviews from actors and writers associated with Focus. She emerges as a mercurial character, a stern redhead dressed all in black who gave clear criticism and pointed encouragement, whose entire existence centered on Focus.
The commentaries of Focus's company members are perhaps the most illuminating portion of the book. Mary Moynihan interviews actor Margaret Twomey, who talks about the early days of Focus and the Stanislavsky workshops O'Connell held on weekends. Elizabeth Moynihan writes about Focus's more recent history, while Mary Elizabeth Burke-Kennedy and Jimmy Murphy discuss specific productions (Strindberg's The Father and Murphy's The Hen Night Epiphany, respectively). Steven Burch also conducts a series of interviews, which are arranged by topic rather than speaker, creating a patchwork of perspectives on various facets of the Theatre, including sections on auditions to the company, Stanislavski training, and memories of Deirdre O'Connell. This style is one feature of the volume that helps it bridge the gap between the genres of history and biography. For instance, while Burch arranges the interviews to tell the story of Focus, he is always clear to foreground the voices of the company members, a move that he and McAvera consistently make throughout the volume. Stanislavsky in Ireland, then, is a piece of theatre history that privileges the first person account. In recording the work of Deirdre O'Connell, Joe Devlin, and the entire Focus company, McAvera and Burch capture both the spirit of Focus and its constituent voices. In effect, they perform Focus's history, tracking both the practices of the theatre and its influence on the theatrical landscape of Dublin. They also implicitly call others to attend to such histories as readers, writers, and theatre practitioners. Focus Theatre is a story of Stanislavsky's widespread influence, but it also sketches the influence that a local community of actors can have upon their city. Theatre, in this book, is as much a groundswell as an aspiration to perfect method.
Breaking Boundaries: An Anthology of Original Plays from the Focus Theatre offers examples of how this groundswell can build into an influential body of work. This volume includes seven original works which premiered at Focus Theatre: Mary Elizabeth Burke-Kennedy's Alice in Wonderland (1979), an adaptation of Lewis Carroll's work; Declan Burke-Kennedy's The Day of the Mayfly (1980), an exploration of intimacy and adultery; Michael Harding's Talking Through His Swift (2003), a single-actor portrayal of Jonathan Swift's wit and social manner; Elizabeth Moynihan's Pinching for My Soul (2011), a three-character play comprised wholly of monologues from a security guard, a drug addict, and a politician's wife; Brian McAvera's Francis and Frances (2011), a breathtaking delve into the consciousness of painter Francis Bacon; Mike Poblete's New York Monologues (2011), a series of short yet poignant monologues fleshing out the trauma of New Yorkers on September 11, 2001; and Aiden Harney's Hollywood Valhalla (2012), an examination of the final days of film star Rock Hudson's life and his decision to reveal his struggle with AIDS.
The range of these plays is staggering: this volume moves from the surrealism of Mary Elizabeth Burke Kennedy's Alice in Wonderland to the realism of Declan Burke-Kennedy's The Day of the Mayfly and Mike Poblete's New York Monologues, then back to surrealism again with Brian McAvera's Francis and Frances. While all of these plays reflect Focus Theatre's commitment to Stanislavsky's system of acting—as passed on by Deirdre O'Connell—they also display the wide range of genres and forms that such acting can take on, from realism to surrealism, from single-actor plays to ensemble pieces to a series of monologues, from abstract content to contemporary political issues. Of particular note are Elizabeth Moynihan's 2011 Pinching for My Soul and Mike Poblete's 2011 New York Monologues. Moynihan's piece is a three-actor play of interwoven monologues. The characters include Chike, a thirty-something African/Irish security guard with aspirations to be a writer; Shania, a nineteen-year-old Dublin junkie; and Brona, the forty-something wife of a wealthy businessmen. Their monologues and narratives cross over each other onstage, and though the characters comment upon each other they do so as strangers, never directly, and any encounter they have is described in the past tense rather than enacted onstage. As such, the play reproduces the alienation of urban life and class discrimination. Mike Poblete's play is a similar pastiche, a series of fourteen character monologues expressing reactions to the fall of the Twin Towers in New York on September 11, 2001. The monologues come from all walks of life, including the unnamed voices of a reporter, a mortician, a tour guide, and a homeless man. Some of the voices memorialize the lives lost in the event; others selfishly celebrate the good fortune such a catastrophe can bring to media and to business. Moynihan and Poblete's work shares a careful attention to character development in the Stanislavsky method, a quality shared by all the plays in this collection. Overall, Breaking Boundaries documents the wealth of talent that Focus Theatre has trained and tapped into over the past fifty years, both during Deirdre O'Connell's tenure and during Joe Devlin's.
This pair of texts acts as a compelling biography of one local aspect of Dublin theatre in the late 20th and early 21st centuries. So much of local and regional theatre, while it burns brightly in its own place and time, never reaches the outside world. While the Focus Theatre may have shut its doors in 2012, these texts have captured its light, both as a documentation of the history of Irish theatre and as a witness of the power and vibrancy of theatre that lives off the beaten path, whether or not such theatre is noted by the academic community. In that respect, Stanislasky in Ireland and Breaking Boundaries act as a subtle call to action for theatre historians to preserve the work going on in their own communities. Performance itself may be ephemeral, but scholarship need not be so.
Nicholas Helms is a PhD candidate at the University of Alabama, where he researches Shakespearean theatre and cognitive science.