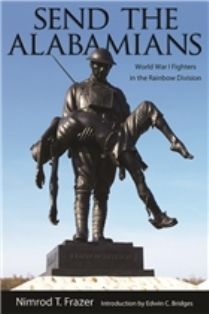 By Nimrod T. Frazer; Introduction by Edwin C. Bridges.
The University of Alabama Press, 2014
$34.95, Hardcover; $34.95, eBook
Nonfiction
Reviewed by Julia Oliver
The awe-inspiring sculpture of a World War I soldier carrying a wounded comrade was the perfect choice for the cover of this book. As the text on the jacket points out: "The book borrows its title from a speech by American General Edward H. Plummer, who commanded the young men during the inauspicious early days of their service.... Impressed with their ferocity and esprit de corps but exasperated by their rambunctiousness, Plummer reportedly exclaimed: "In time of war, send me all the Alabamians you can get, but in time of peace, for Lord's sake, send them to somebody else!" The time was 1918; the event was The Battle of Croix Rouge.
The author, a retired investment banker and former CEO of Enstar, earned an MBA at Harvard and was awarded the Silver Star for his military service in Korea. This colorful, well-organized, highly readable narrative about the Rainbow Division of World War I is derived from his father's stories of that remarkable time and team. The back cover features endorsements by Retired Generals David H. Petraeus and Joseph Taluto and novelist/historian Winston Groom.
If you're looking for gift for a U.S. Army veteran or descendants of those brave heroes, this book is the perfect solution. Nimrod Thompson Frazer obviously has talent for writing "true" narrative. His enthusiasm for and knowledge of his subject come across on every page. This book belongs in personal libraries, as well as official ones. It would be a wonderful gift for anyone with Alabama connections who recalls that patriotic time and their (our) children and grandchildren.
Julia Oliver is a Montgomery writer.