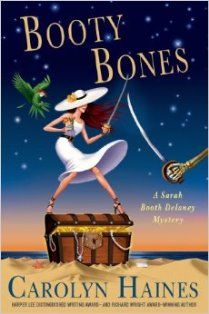 By Carolyn Haines
Minotaur Books, 2014
$24.99, Hardcover
Fiction
Reviewed by Don Noble
Harper Lee Award recipient Carolyn Haynes has now published fourteen Sarah Booth Delaney "Bones" mysteries over the past fifteen years. What started as a series set at Dahlia House, in Sunflower County, Zinnia, in the Mississippi Delta, has done some travelling.
At home, Sarah Booth is aided by her gang: Madame Tomeeka, the psychic; Cece, the transsexual journalist; Millie, who picks up gossip in her café; and always her fiery detective partner, Tinkie. Some of these characters have even helped Sarah Booth solve crime in Costa Rica.
At first, Jitty, the antebellum slave ghost of Dahlia House, did not travel but, in Booty Bones, Jitty and Tinkie are with Sarah Booth, and even the hound Sweetie Pie and cat Pluto lend active assistance. The others help by phone.
Haines has set out here to write a perfect beach novel so, no surprise, it is set on the beach. Sarah Booth and her fiancé, Graf Milieu, Hollywood actor, are on Dauphin Island.
In the previous "Bones" novel, Graf was shot, badly injured in the leg. In a rented cottage on the west end of the island, they are resting, and Graf is taking exercise to strengthen his leg. While he recovers, both physically and psychically—his self- image is as damaged as his leg—Sarah Booth is planning a surprise wedding but, of course, there are complications. Her well-laid plans will go awry. Distressingly, Jitty, the ghost, keeps appearing dressed as famous widows; she materializes as Jackie Kennedy Onassis, Elizabeth Taylor, Mrs. Mary Todd Lincoln, Mary Shelley, and many others. This cannot be a good sign.
Also, Graf is moving away from Sarah Booth. He has not been willing to be intimate for over two months—some fiancé! He "needs space," and he is seen meeting secretly, furtively even, on the beach with a slender blonde woman and a beautiful little girl. Uh-oh ! Who are they?
Of course, Sarah Booth is also soon engaged in a mystery involving a murdered treasure hunter who may in fact, before his death, have located an 18th century pirate hoard. A man was convicted of the crime and is in Atmore, but may be innocent. There is a gaggle of suspects: crooked deputy? crooked ex-governor? crooked maritime museum director?
Since Sarah Booth's romantic life is crumbling anyway she might as well solve some crimes and use her excess energy.
Over time, Haines has moved these "Bones" books more and more in the direction of romances. All the men who read this novel could probably meet in a smallish bar, but that's no matter. Her readers, female and legion, will love it.
I do suggest that Haines might be working too fast. The novel is her longest at 355 pages and doesn't need to be. Slips occur. On page 297 Sarah Booth says "I had much to accomplish." Two pages later her dead mother tells her "You have much to accomplish." Sometimes the diction gets formal-romance-rhetorical: "When we parted, it was with anger," Graf says.
Another observation, not exactly a criticism, is the new ubiquity of hurricanes.
Novels from about 1995 to 2005 all seemed to have characters cooking away, sometimes with directions for preparing food articulated in the dialogue and sometimes with actual recipes at the end of chapters.
This development in fiction—the literary equivalent of Babette's Feast—can be traced in American literature back to Hemingway, whose characters really knew how to savor an oyster, a sausage, or even a can of beans, up through Jim Harrison in the novellas of Legends of the Fall, through Pat Conroy's The Prince of Tides.
Now, hurricanes are the novelistic ingredient de jour. Jesmyn Ward's prize-winning 2011 novel Salvage the Bones and Roy Hoffman's recent Come Landfall both end in deluge. In Booty Bones, the hurricane threatening throughout is Margene. Hurricanes definitely add urgency and are exciting. What is more enlivening than the imminent threat of death?
As Walker Percy put it in his essay "The Delta Factor": "Why is a man apt to feel bad in a good environment, say suburban Short Hills, New Jersey, on an ordinary Wednesday afternoon? Why is the same man apt to feel good in a very bad environment, say an old hotel on Key Largo during a hurricane?"
Don Noble is host of the Alabama Public Television literary interview show Bookmark and the editor of A State of Laughter: Comic Fiction from Alabama. This review was originally broadcast on Alabama Public Radio.