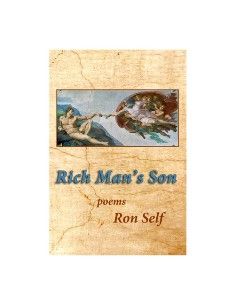 by Ron Self
Brick Road Poetry Press, 2013
$15.95, Paper
Reviewed by Julia Oliver
This compact paperback printing of seventy-five lyric poems has an attractive cover with a fresco painting by Michelangelo, which forms part of the Sistine Chapel ceiling, painted circa 1511-1512.
Most of the selections have been published in academic periodicals, such as The Atlanta Review, Encore, Legal Studies Forum, and The Birmingham Arts Journal.
The collection offers three titled sections: Part 1: As Nature Made Him; Part 2: Family Business; and Part 3: Make It Dance.
Reassuring, sometimes tantalizing, titles include "Love with Coffee, Chocolate and Strawberries"; "Where My Life Has Gone"; "Oriented Times Three"; "Fork in the Road"; and "All Will Be Well."
One of my favorite titles is repeated in the first line of the poem's first stanza, which, however, sounds just like the opposite sex: Contentment is for cows. Make me an ambitious man, full of hope, dreams of glory, destined to do great things.
Julia Oliver is a Montgomery writer.