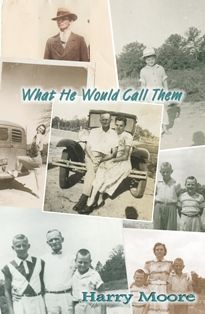 By Harry Moore
Finishing Line Press , 2013
$14, Paper
Poetry
Reviewed by Norman McMillan
As I read the seventeen poems in Harry Moore's chapbook, What He Would Call Them, I thought almost immediately of Auden's oft-quoted pronouncement: "Art is our chief means of breaking bread with the dead." With a clear understanding of the importance of family relationships across generations, Moore celebrates his forebears in most of the poems in this collection. But things do not stop there. He brings his readers forcibly back to the present, connecting his current life with previous lives, his own and those of his parents and grandparents.
We encounter these ghosts on almost every page, beautifully drawn and each having something different to impart. There is a father who tilled the earth and established in his son many of the sustaining qualities Moore has demonstrated in his own life—a sweetness of spirit, a curiosity about the world around him, a desire to identify natural things with proper names. There is also a grandfather, a preacher, whom Moore emulates, even taking up preaching himself, until, as he puts it, "At twenty-nine,/I walked away, my cup as dry/As desert rock." But in the ensuing years, he says,
quietly
As evening mist, a grace arose
and grew within my wandering years,
a constant star at sunset, a cup of wine
and some bread.
Then there is his mother, who worked tirelessly on the evening shift in the cotton mills, for whom he writes a lovely tribute in "Requiem." Feeling he has lost everything, the poet describes finding a photograph of his mother at twenty,
standing straight,
head back, arms akimbo,
one foot on a car's bumper, smiling,
as if to dare the world.
This photograph, demonstrating as much vitality as he implies, adorns the book's cover. Lastly, there is his grandmother, a housewife who with "mouth set and jaw firm, like a post oak" goes about her tasks.
The naming of things, associated with Moore's father, is a primary theme in the collection. For the poet, to call things in the natural world by their proper names and to understand their essential nature is to connect with his past, even in the present world when such knowledge does not appear to be so essential. In fact, Moore states in one poem that the names of flora and fauna he learned from his father "are of no use to me." But he surely means they are of no use to him in a practical sense. They mean everything in defining who he is, and the joy and consolation at such naming jumps out from every page. He impressively fulfills what Conrad called the chief duty of the writer: the accurate naming of the things of God.
Starting with his epigraph from the book of Genesis and continuing through the final page of the book, Moore reminds the reader that the most famous act of naming in literary history comes in the Garden of Eden. In his last poem, "Adam Goes Walking on Lookout Mountain," he writes that if he could name accurately all things that surround him,
paradise would be his again, the garden safe
within its walls, the way it was before he knew
that he knew.
A spirit of Wordsworth hangs over Moore's collection, and I couldn't get Wordsworth's Intimations ode out of my mind, especially those commonly-known lines:
Though nothing can bring back the hour
Of splendour in the grass, of glory in the flower;
We will grieve not, rather find
Strength in what remains behind.
A similar juxtaposition of the past and the present gives Moore's poems great poignancy.
In verse artistically rich and highly readable, Moore has accomplished more than many authors manage in much more space. Both the insight and the felicity he demonstrates will, I think, draw many readers to this volume.
Norman McMillan is author of the memoir, Distant Son: An Alabama Boyhood, and of two plays, Truman Capote: Against a Copper Sky and Ashes of Roses, based on stories of Mary Ward Brown.
Editor's note: Although Dr. McMillan faithfully honors Harry Moore's margins and spacing in his review, this posting does not, owing to the website's formatting. (Danny Gamble)