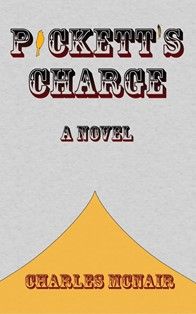 By Charles McNair
Livingston Press, 2013
$30, Hardcover; $18.95, Paper
Fiction
Reviewed by Julia Oliver
This interesting, adventure-filled novel utilizes two time frames a century apart. In 1964, the 114-year–old protagonist, Threadgill Pickett, a Civil War veteran languishing in a Mobile retirement home, is obsessed with the belief that something really bad happened to him on his boyhood journey to join the Confederate Army.
His long-dead brother, Ben, has brought him the news that a Union soldier in Bangor, Maine, is still alive. Wearing his ancient, yellow-feathered hat, Threadgill decides to head north to fight what he believes will be the last battle of the Civil War. His adventures—though unbelievable—make an interesting, colorful narrative, and the author's ability to merge historical fiction with imaginative speculation keeps the pages turning for the reader.
Alabama native Charles McNair is also the author of the 1994 novel, Land O' Goshen. He lives in Atlanta, where he is Books Editor for Paste magazine and shares his reviews on the radio.
Julia Oliver is a Montgomery writer.