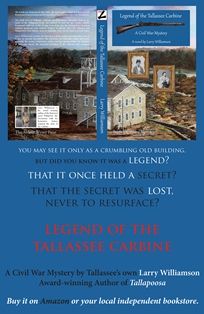 By Larry Williamson
The Ardent Writer Press, 2013
$19.95, Paper
Fiction
Reviewed by Carroll Dale Short
If the springtime of 1864 was not the darkest moment for the Confederacy in the waning days of the U.S. Civil War, it was definitely high in contention. The South's iconic general Stonewall Jackson had died of war injuries, and Union forces were setting their sights on Richmond, Virginia, for its significance as a stronghold of armories and gun manufacturing.
What the North didn't know was that the factory working on a new, improved weapon named the Tallassee Carbine had been secretly moved to a remote river town in Alabama, and was preparing to make some 500 of the high-tech carbines and ship them straight to Macon, Ga.
This scenario is the opening of Larry Williamson's historical novel, Legend of the Tennessee Carbine, which tracks the eventual fate of the storied weapons and of the soldiers desperate to use them. Today, only ten of the famous carbines remain. Williamson takes on the task of speculating on what happened to the rest.
In doing so, he makes extensive use of the historical record, of a wide range of both real and imagined characters, and of geographical settings woven throughout past, present, and future scenes. The main story, set in the Confederacy of 1864-65, is intercut throughout with scenes labeled "2016" and "2017" of a small-town farm family and their chance discovery of old weapons in a destroyed barn; a vignette from Georgia in 1917, another from the Wall Street district of New York in 1929, and another in an Arkansas marketplace at the onset of World War II.
To call the narrative structure ambitious is an understatement, and connecting the dots from the various threads can at times prove a cerebral workout for even a careful reader. History buffs and other lovers of authenticity will appreciate the careful research and attention to detail. Adventure story buffs may crave more of the fast-paced action and intrigue, and less of the genteel dialogue.
Fortunately, Williamson's organizational abilities allow readers in both camps to shape the experience to their own tastes. Legend of the Tallassee Carbine is prefaced by maps and a methodical chapter outline that lists the characters, both fictional and historical, in each section. Some readers may find themselves drawn to read only the Civil War chapters until the concluding story of the main character, Confederate private Connor Almsberry, and then go to the time-shifting chapters and peruse how they fit into the overall picture.
Likewise, the archive photos, illustrations, and author's notes are grouped mostly near the beginning and end of the book for easy reference without interrupting the experience of the story. Like the rest of Legend, the artwork is a well-reproduced companion to a work of solid research.
Carroll Dale Short is a fiction writer, journalist, and video producer who lives in Jasper, Alabama.