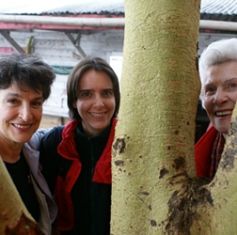 By Henrietta MacGuire;
Photography by Katie Faulk
Mockingbird Publishing, 2012
$12, Paper
Nonfiction
Reviewed by Julia Oliver
This impeccably produced book from Ashley Gordon's relatively new Fairhope, Alabama, press is a triumphant journal/account about Montgomery author and editor Henrietta MacGuire's stint as a volunteer worker in an orphanage in Nairobi, Kenya, in the summer of 2010. The text is enhanced by a plethora of wonderful color photographs, taken by fellow traveler and volunteer Katie Faulk of Memphis.
MacGuire's daughter, Muni Figueres, of Washington, D. C., wrote the book's foreword, in which she notes that their troupe of four "saw unexpected angles of ourselves and of one another reflected in the Kenyan sun, and in the candlelight…. My mother is indeed right: it's what you don't do that you regret."
For Henrietta Maguire, the adventure began after she had written an article about Steve James's work in Kenya Relief in Africa. James called and asked MacGuire to come with him to Kenya. Then, he said, she could write an article that he could use as a fundraiser.
She and the photographer, Katie Faulk, were autographing these lovely books in the lobby of the Capri Theatre in Old Cloverdale, Montgomery, Alabama, during a recent benefit movie performance. The back cover notes in red that "All proceeds from Kuponya will be donated to Kenya Relief, a not-for-profit organization dedicated to providing medical care, education, and housing to Kenya's neediest children and families."
Julia Oliver is a novelist, journalist, and communications consultant in Montgomery.