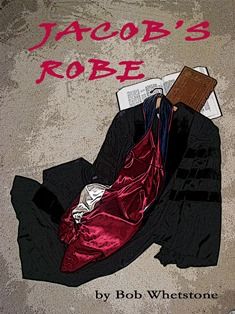 By Bob Whetstone
Lulu Enterprises, 2013
$40.93, Hardcover; $12, Paper
Fiction
Reviewed by Pam Kingsbury
Bob Whetstone, familiar to many readers for his career at Birmingham-Southern College and his work with the Alabama Humanities Foundation and arts organizations, has written five historical novels prior to Jacob's Robe. Set partially in the mountains near Asheville, North Carolina, Jacob's Robe uses local history, folklore, and storytelling to lure readers into the love-story—turned-mystery of Jim Dean and Rachel Palmer.
When Dr. James Dean, a recently minted PhD, disappears on his way to his first teaching position, his fiancée, Rachel, who has given up her teaching job in anticipation of joining him, decides that she will have no peace of mind until she finds him. Unbeknown to her, a man who loosely fits his description is found in car wreckage. Jim is nursed back to health at the Cherokee Medical Clinic by the lovely Leah, a local Cherokee woman and daughter of the chief. However, he has amnesia. Among his possessions are a few documents that may or may not belong to him and an academic robe. The documents are enough to secure a temporary teaching position for Jim at a nearby, fine private school.
Jim has the good fortune of meeting Stuart Adams, the chaplain of the school and a gentle, patient, man, who is willing to help Jim as part of his oversight of the school's flock. As Jim is attempting to find his memory, he is also feeling his way as a teacher to young, disgruntled students who believe they have been unfairly forced into summer courses. To his credit, Jim finds a way to connect with his students that also helps in his journey toward restoration. He also begins a sexual relationship with Leah that leads to unexpected consequences for both.
Meanwhile Rachel wonders if she has been abandoned, if Jim is alive or dead. She also wonders how she will live her life without answers to those questions. Her well-intentioned parents want the best for her and clumsily try to help her. Eventually Rachel and her father, along with the various individuals at the school, succeed in bringing Jim and Rachel together.
Told in Jim and Rachel's alternating points of view, Jacob's Robe is reminiscent of the English Romantic novels and Sharyn McCrumb's Appalachian ballad mysteries.
Bob Whetstone's earlier novels include Grave Dancin' (2006), Cotton Mary (2011), and Mystic Bat (2012). In addition to being Professor Emeritus at Birmingham-Southern College, he has also been a music teacher, choral director, orchestra conductor, and teacher of psychology. All of his novels are set in the Deep South and are broadly based in history. Whetstone has published articles about his childhood in the cotton mill villages of east Alabama.
Pam Kingsbury, author of Inner Visions, Inner Views, teaches at the University of North Alabama.