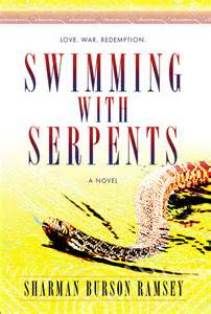 By Sharman Burson Ramsey
Mercer University Press, 2012
$26, Hardcover
Fiction
Reviewed by Mollie Smith Waters
An author writing historical fiction faces the challenge of balancing the realities of a period with the story he or she introduces into that world. Attempting to create that balance in Swimming with Serpents, Sharman Ramsey delves into the midst of Alabama's 1813-1814 Creek Indian Wars through the adventures of her primary characters, Cade Kincaid and Lysistrata "Lyssa" Rendel.
Cade, a young man of mixed race straddling the white and Creek worlds, has a problem on his hands in the form of a resolute young woman named Lyssa, who is determined to cash in on a marriage promise exacted in childhood. Cade unwittingly stumbles into her trap, and although Lyssa has some explaining to do, Cade has no time to hear it, for word has reached them that the Red Sticks are plotting an attack on Fort Mims. Cade must leave Lyssa in order to save his family and friends who are living at the fort. Little does he know that Lyssa is fast on his heels. After waiting so long to get her man, she's not about to let a little thing like a war stop her from being with him. What follows is a series of misadventures, massacres, and rescue attempts that only the bravest and most cunning can hope to survive, yet with villains such as the bloodthirsty Savannah Jack and the Red Sticks wreaking havoc at every turn, survival won't be easy.
In Swimming with Serpents, Ramsay explores the often overlooked history of the early 1800s in Alabama. She has certainly done her research, for she has all of the right people in the right places at the right times. One of the book's highlights is Ramsay's vivid description of the Fort Mims massacre, which will set readers' teeth on edge.
However, the author includes so many historical details until they hinder the book's natural flow. The plethora of information regarding the relationships between the different Native American tribes as well as knowing exactly how all of the characters are related is interesting, but these details add little to the plot and end up being a disruption.
One other area that may prove slightly problematic for readers is the overabundance of characters. Trying to follow the story at the heart of the work is difficult when so many new characters are being introduced. If readers don't become sidetracked by these inclusions, they should find themselves enjoying Cade and Lyssa's unlikely tale of romance.
An ambitious debut novel for Ramsay, Swimming with Serpents offers enough war, thwarted love, and evil villains to keep readers going. Although the book has its kinks, Ramsay's effort may encourage readers to learn more about Alabama's dark past during the Creek Indian Wars. July 2013
A teacher for fourteen years, Mollie Smith Waters also writes book reviews for The Montgomery Advertiser and Southern Literary Review.