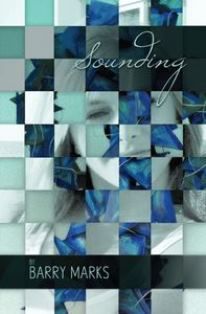 By Barry Marks
NegativeCapability Press, 2012
$15.95, Paper
Poetry
Reviewed by Carey Scott Wilkerson
On page 22 of Barry Marks's Sounding, there is a poem titled "Father's Day." Below this title lies a blank page, a sweep of terminal white that drifts beyond the margins and into secret velocities of imagining. A silent withdrawal from the space of language and argumentation, it is but one of the many complex, heartbreaking, and luminous moments in this book. Written in the shadow of a father's grief, this book is not only a Kaddish and encomium for his precious daughter, who died just after her seventeenth birthday, but also a gift of transfiguration and hope. Sounding is a study in the topology of loss and the exigent forces that make art possible when the world seems to collapse around us.
Indeed, this collection traces the figure of death as an emblem of the artist's responsibility in life to be responsive to the mutable shape of life itself. That we are all implicated in the looming questions of death is clear enough, but Marks's radical achievement here is to map a region of experience in which the traditions of biography, confession, and lamentation are held in flux, where even the received tropes of tragedy are displaced in order to recover a language of memory and love.
Consider this moment in which Marks documents the pain of losing a child in the sensory paradox of "Phantom Limb":
You are not here
but I feel you.
That pretty much says it all.
Like hearing a cry
after the fall
and seeing only an empty place.
Like hearing after music
or seeing the sun
within one's eyes
knowing beyond
the sense's lies
is knowing a lot
and knowing not.
Thus, the epistemological break between the given world and the dark artifice of suffering becomes that space where a father's crie de Coeur delivers a truth that exceeds the limits of logic:
[...]
and I want to die for you
as I want to die for you
but I cannot, I only feel for you
in the darkness that
will heal with time
but never grow back;
it is like I have lost
part of myself
leaving only pain.
It is like that.
If these wrenching lines are difficult to read, one can only speculate about the torturous act of writing them. And yet, to see that they have been written is central to understanding the courageous humility attendant upon every gesture in this remarkable text. To sound is not only to speak, to vocalize as one might imagine giving a voice to the voiceless or to the unspeakable; it is also the measuring of depth. Thus, Marks's poems for his daughter, about his daughter, about a life framed by loss are the signatures of a restorative engagement with the endings that inevitably remind us of our own but which also mark the transitivity of certain beginnings.
Sounding is a book Barry Marks had to write, one he is perhaps in some way still writing. As life goes on, so must this book, searching, sounding its way down through shock and terror but touching finally upon the grace of Marks's vast love for his daughter, a love that fills the blank page of mourning and composes her "perfect as the dawn." July 2013
Editor's Note: Sounding was a finalist for the Eric Hoffer Award for Independent Books.
Carey Scott Wilkerson's latest play, Seven Dreams of Falling premiered in Los Angeles in June 2013.