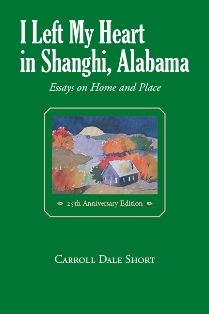 By Carroll Dale Short
NewSouth Books
Classics, 2012
$15.95, Paper
Nonfiction
Reviewed by Bebe Barefoot
Dale Short introduced the 1988 edition of I Left My Heart in Shanghi, Alabama, with humble wonder, marveling at his good fortune and comparing his childhood home to the Garden of Eden. He opens the twenty-fifth anniversary edition with wistful mourning: "I put off going home as long as I could, because home is gone."
He and his family lost their paradise to the state highway department when "Corridor X," now Interstate 22, cut a swath through Walker County. The town remains, but only a concrete slab, a Pepsi-Cola bottle, and a rusted cooking pot hint that there was ever any life, much less five generations, on the spot where his family thrived. Like our bodies, houses eventually crumble and become one with the earth, but a "home" is different. Home is spirit, and home is the soul of Short's essay collection.
Organized thematically, these pieces offer a prismatic glimpse of a world both quintessentially American and steadfastly Southern. Norman Rockwell could have illustrated it and, in a way, did. Or perhaps Short put words to Rockwell's paintings, but with a Dixie twist. Any minute readers expect Andy Taylor, Aunt Bee, and Barney Fife to jump from the page into your reading chair. This world, in turn, provides a glimpse into the complexity of a single man as he celebrates the sights, sounds, and stories of the town and people who made him.
Originally published in his weekly newspaper column in The Daily Mountain Eagle, Short's musings explore the simple, unsung beauty of small-town life, family, and hearth. From summer love to slingshots . . . train rides to hurricanes . . . Thanksgiving memories to Civil War ditties. . . and all points in between, Short mythologizes his autobiography by elevating the personal to a place where all of humanity co-exists: the heart. He also manages to personalize the mythical by finding common ground with the likes of George Jones and Joe Namath.
This is a world where everyone understands that "victims of pure racket" are not playing tennis, but no one recognizes the sheer artistry in auto mechanics. Short compares his first writing mentor to a cactus in a way that would do her proud and elevates an old cat to superhero status while maintaining his own dignity (as well as the cat's). He teaches the unschooled while also unschooling the educated. We are all the better for it.
Short's "postage stamp of native soil"—to quote another Southerner who never left home—lives on as a vehicle for sending this love letter to his beloved Shanghi, to his family and, most importantly, to himself. His easygoing, straightforward style will leave readers longing for a rocking chair, a cold drink, and the smell of something wonderful coming from the kitchen. Come on in and sit a spell. You won't want to leave. July 2013
Bebe Barefoot is a freelance writer. She lives in Tuscaloosa and teaches at the University of Alabama.