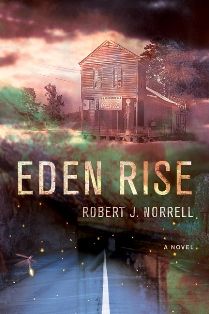 By Robert J. Norrell
NewSouth Books, 2012
$27.95, Hardcover
Fiction
Reviewed by Ruth Autrey Gynther
The story of Eden Rise revolves around Tom, the 19-year-old son, returning from his freshman year at Duke University where he became fast friends with Jackie, a black Duke basketball player. Alma, an attractive though obnoxious student activist, has persuaded Jackie to join her teaching at a Freedom School in Alabama, and Tom offers them a ride.
While driving a country road, Alma insisted she must use a restroom. They stop at a general store whose proprietor refuses to let a black use his facilities. Alma challenges him, he curses them as agitators, and grabs a gun. He starts firing, wounding all three. Tom, who had discovered a gun in the car he inherited from his grandfather, gets the gun and returns fire, wounding the shooter in the leg. Jackie dies, and Tom's family is changed forever from the fall-out.
Tom spends the summer dealing with his grief and guilt regarding Jackie's death, the hostility of the community that labeled him "nigger-lover" and led his grandmother to hire a bodyguard, and the upheaval in his own family. His grandmother, mother, and younger sister are generally supportive. His father resents Tom for stirring up trouble, and he resents the women in the family for not agreeing with him.
The bodyguard, a young black man from Chicago with a criminal record and local ties, is one of the more complex characters.
Even readers who, like Tom, prefer to leave those times and events in the past, cannot help but be impressed with the narrative's authenticity. The accuracy of history and geography, actual place names, descriptions of cotton fields and Rose of Sharon, all seem just right. The language, the attitudes, even the names fit. All of the characters are well drawn and the relationships are an important aspect of the story. The dialogue, however, is peppered with expletives that might be a negative for some readers.
In the end, Eden Rise fast-forwards twenty-one years and leaves readers with concerns about justice, even justice delayed. July 2013
Ruth Gynther is a retired Auburn University instructor who grew up in Southwest Alabama.