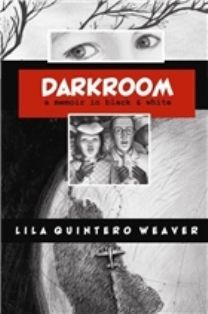 By Lila Quintero Weaver
The University of Alabama Press, 2012
$24.95, Paper; $24.95 eBook
Nonfiction
Reviewed by Lindsay Hodgens
After going through the Alabama public school system, I was sure that I had a pretty good grasp on Alabama's involvement in the Civil Rights Movement—that it was a terrible dark spot on our history that involved the cruel treatment of African Americans—but Lila Quintero Weaver's debut graphic memoir has made me question how much I actually know about the subject. Darkroom: a memoir in black & white tells the story of Weaver's family, who immigrated from Buenos Aires. Several aspects of the family's history are explored, such as the father's complicated and storied ethnicity and the speaker's own feelings of displacement in American public schools, but it was the speaker's fresh perspective on the Civil Rights Movement that pulled me in.
Only a few years after moving to Marion, Weaver's father finds himself involved in an incident that Weaver recalls as "Marion's darkest hour." After being all but denied the right to vote, the African-American community in Marion gathers at a local church and plans to march down to the jailhouse to visit peers who had been imprisoned for their role in protests. Armed with a camera that would ultimately prove useless, Weaver's father waits with a group of other journalists only to have their pictures (and their lives) threatened when hostile townspeople cut the power to the streetlights. Journalists and protestors alike are assaulted for simply being at the scene. This already terrifying event is made even more so because Mr. Quintero had no idea that people would go so far as to shoot and kill an African-American man who had attempted to escort his parents off the premises. In these moments readers are able to imagine what it must be like to view these events from an outsider's view.
In addition to the fresh perspective on well-known Alabama events, Weaver integrates her understanding of the events into the texts masterfully by using the motif of the darkroom and photography to frame her family's exposure to American culture and their ties to Argentina. Photography brings Weaver's father to the church when the protesters prepare to move out, photography allows the family a connection to their relatives in Argentina, and photography gives Weaver the context in which she can talk about the important moments "captured" throughout her youth.
Darkroom is full of poignant themes and motifs, and it's a shame that I can't mention all of them here. Suffice it to say that Weaver's depiction of her childhood in Alabama is often as beautiful as it is uncomfortable. Several moments in the narrative seem to recall a scrapbook in the way various artifacts of Weaver's childhood are put on display and commented upon, which brings Lynda Barry's work to mind. All things considered, Darkroom is a graphic memoir that succeeds both as a personal narrative and as an exploration of our state's troubled past. Whether you're interested in gaining a deeper understanding of the cultural and political climate of the era or you just want to read a good memoir, you will be satisfied with Weaver's work. July 2013
Lindsay Hodgens is a double English/sociology major at the University of Montevallo.