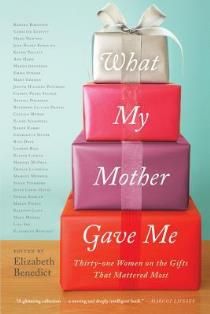 By Elizabeth Benedict, ed.
Algonquin Books, 2013
$15.95, Paper; 8.77, eBook
Anthology
Reviewed by Julia Oliver
A sub-title, Thirty-One Women on the Gifts That Mattered Most, provides dimensional definition to this collection of specially commissioned essays. The contributors, all well-known journalists and/or fiction writers, include Montgomery native Judith Hillman Paterson, who is scheduled to present a program at the 2013 Alabama Book Festival on Saturday, April 20. Among highly recognizable bylines are those of Ann Hood, Mary Gordon, Rita Dove, Marge Piercy, Joyce Carol Oates, Lisa See, and the book's editor, Elizabeth Benedict. Although it's logical to assume publication was timed to come out near Mother's Day, each of the thirty-one authors has risen to the occasion of writing eloquently on-theme without over-sentimentalizing.
Among the elegiac statements that stood out for me as I read this book while thinking about my own mother, who died in 1986 (though it seems as if it were last year), is this excerpt from "The Gift Twice Given" by Judith (Judy) Paterson: "…I began to see my family heritage as a microcosm of the bone-deep conflicts in the history of Alabama, the Deep South, and the country itself…. I think now of those precious wartime months as the gift twice given. As a gift to my childhood, Momma's devotion at that time strengthened my sense of my own worth and enabled me to survive and go on without her…. I remember. I had a mother. She loved me." April 2013
Julia Oliver is the author of three novels, a collection of short fiction, three stage plays, and numerous articles and reviews.