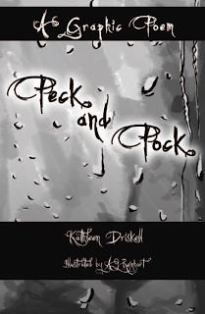 By Kathleen Driskell
Illustrated by AJ Reinhart
Fleur-de-Lis Explorations, 2012
$8, Paper
Poetry
Reviewed by Lindsay Hodgens
Thanks to the recent superhero movie craze, comics are big again. There are entire conferences devoted to comics scholarship, and comics (or, alternatively, "graphic novels") have become a popular subject for English courses. What Kathleen Driskell brings to the table is a spin on the image-driven genre we are already familiar with. Simply put, it ain't your grandma's comic book. Interestingly enough, Driskell's Peck and Pock: A Graphic Poem comes in the form of an elongated, slim booklet reminiscent of a comic book. The cover art—droplets of rain highlighted against a windowpane—is powered by hues of white, gray, and black. This dark theme continues into the rest of the book's paratext. Stark black dominates the title and credit pages and acts as the background for the area between and behind panels, otherwise known as the gutter. This sets an excellent mood for Driskell's dark and hypnotic poetry. Driskell's writing shines its brightest when it is fixated on the smallest details, like rotten apples being swept along in a current and young faces pressed against windows. While reading, I had the constant sense of being taken aback by these small, strange pieces of beauty.
The art also plays a large part in the success of the poem. AJ Reinhart's luxuriously dark illustrations alternate between thick brushstrokes and thin, scrawled detail. Again, some of the most beautiful visuals occur when the focus is on everyday details. The image of the children pressing their faces against the window—the apples of their cheeks glowing pink from the pressure—seems to be the perfect way to interpret Driskell's image of "bland pink faces (like cabbage roses)." There are many lovely moments like this one throughout the book, although there is one visual element that gives me pause. Given the success of the black background and packaging in conveying the heavy tone of Driskell's poem, I felt distracted by the white text boxes. Reinhart does a wonderful job of using color to convey the speaker's many losses, but the text boxes are a bit jolting. Otherwise, Reinhart's choices of color and style add to the weight of the poem.
A graphic poem is a daring thing to write. Because I have never seen one before, I was a bit skeptical about how it would play out. With that said, the combination of Driskell's impressive writing and Reinhart's deep and often unsettling illustrations have changed my mind. Graphic poems can obviously be executed well, and I look forward to seeing further work from these two. April 2013
Lindsay Hodgens is a double English/sociology major at the University of Montevallo.