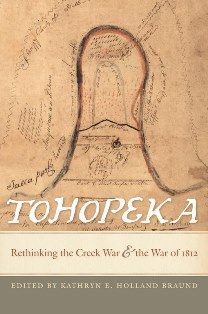 Tohopeka: Rethinking the Creek War and the War of 1812
By Kathyrn E. Holland Braund, ed.
A Pebble Hill Book by the University of Alabama Press, 2012
34.95, Paper; $29.95 eBook
Nonfiction
Reviewed by Pam Kingsbury
The Battle of Horseshoe Bend, also known as the Battle of Tohopeka, was a turning point in Creek (Muskogee), Alabama, and American History. Set within the larger context of a newly established America, continuing clashes between the settlers and the tribes for land, and the War of 1812, the Battle at Tohopeka made Andrew Jackson a national hero with both military and political clout.
Tohopeka: Rethinking the Creek War and the War of 1812 offers multiple viewpoints on the history, archaeology, and preservation of Horseshoe Bend. The book is a commemorative collaboration on the 200th anniversary of the battle and the fiftieth anniversary of the battle site being designated as the first National Military Park in the United States. Scholars came together at the Caroline Marshall Draughton for the Arts and Humanities (formerly known as Pebble Hill) to celebrate their passion for and study of the land and history at Horsehoe Bend. The twelve essays included have been revised, and revisited from the presentations in the hope that "these chapters will inspire additional research and promote further study, interpretation, and preservation of other Creek Indian and Creek War sites in Alabama."
The list of contributors is impressive, offering a mix of historians whose work is widely known to readers in addition to historians, archivists, and preservationists whose work may not be as familiar. Each of the essays add gravitas to the on-going studies of the battles of the Red Sticks—the Canoe Fight, the Battle of Holy Ground, and the Battle of Tohopeka. The contributors use literary and linguistic analysis, cultural and religious practices, and new archaeological research to create a broader interpretation of Alabama History. The maps, charts, and, most notably, the selected bibliography offer the reader depth and context.
All of the essays are readable, lively, and designed to stimulate conversation on the relationships and tensions between the factions involved in the war, the events leading up to the war, and the historiography created—and evolving—after the war. The research is careful, thorough, and important.
Kathyrn E. Holland Braund, author of Deerskins and Duffels: The Creek Indian Trade With Anglo-Ameica, 1685-1815 and coeditor of Fields of Vision: Essays on the Travels of William Bartram, is Hollifield Professor of History at Auburn University. March 2012
Pam Kingsbury teaches in the English Department at the University of North Alabama.