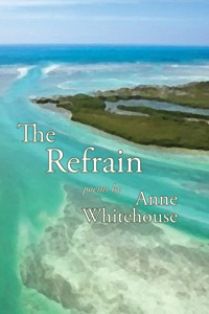 By Anne Whitehouse
Dos Madres Press, 2012
$16, Paper
Poetry
Reviewed by Mary Kaiser
Describing an aging woman, Anne Whitehouse writes, "to go on living / she would have to give up / who she was until this season." This eloquent statement of loss and adaptation could be an epigraph to Anne Whitehouse's latest collection, The Refrain, poems that locate moments of transformation when the old life mutates irrevocably into a new form, moments of terror and confusion followed by clarity and the possibility of a new beginning. A house struck by lightning, a bed-bug infestation, the onset of dementia, a bird trapped in a house, a child trapped inside her parents' squabbles—all of these moments effect a mysterious change, a new and clearer vision. Like novelists Virginia Woolf and Laurie Colwin, Whitehouse scans quotidian detail for her metaphors, and like them, she always selects the resonant image that, without commentary, gives meaning to the whole. As a poet, however, Whitehouse can tell a story and develop a character in just a few charged lines. As with a great novelist, empathy is the keynote of Anne Whitehouse's vision as her poems take the reader into momentous crossings in the lives of others.
The long poem "The Beyond," an account of the World Trade Center tragedy in 2001, enters into the experience of a woman whose husband was lost on that day. The poem melds emotion and imagery, beginning with an image from the winter after the disaster, melting snow "twinkling / with crystals, specked with black dirt." The poem's speaker goes on to speculate about bodies and souls, asking "where was he – beyond the dust?" The poem's closing section turns to an image from the New York Buddhist Church of a statue that overlooked the bombing of Hiroshima, returning to the image of "dust grown finer and finer." The imagery of dust mixed with crystals expresses the speaker's sense of loss and bewilderment while also embodying her confrontation with the mystery of her husband's death and even her questions about her own identity—"am I a spirit, / too, for good or ill?" she wonders. The resonance of dust is profound, containing biblical associations, the Dantean connection of souls swept in eternal winds, as well as images of death and cremation. Imagery works in the service of empathy here, taking us into one woman's experience of a national tragedy.
Another poem that effects a similar charged relation between image and empathy is "Bear in Mind," an exploration of memory loss in an aging woman. Again, this one opens with a natural scene that introduces the key image, a shoreline where "the water's breach into the shore / was like forgetfulness eroding memory." The old woman's memory loss is compared to an eroding net that "will not hold her. / She slips through it, as if through a sieve." This is a powerful metaphor for memory loss and the disorientation that goes with it. Later, the poem's speaker and her daughter drive along the "roller coaster hills" of New England, hills that "bear my daughter and me gently/ up and down." Here, two younger women find that they are upheld by their environment, their minds and memories intact, and again the natural imagery expresses the contrast with the speaker's aging mother. However, the old woman shares something important with her daughter, a "tempered gratitude" that comes with her loss of self-reliance, and resonates when the daughter blesses "this life I had to learn to trust." A complex network of human relationships and a mysterious disease of aging are coherently expressed through the use of subtle unifying imagery, taking the reader into the heart of the speaker's experience.
Reading The Refrain is a rewarding and humanizing experience, like the experience of reading a good novel. We enter the lives of others in language that allows us to connect with and appreciate their challenges, broadening and deepening our own humanity. Anne Whitehouse's sensitivity to the natural world, whether the seasons, plants or animals makes us more observant and appreciative of the ways in which we are all part of an ecosystem as emotional and spiritual as it is sensuous. March 2013
Mary Kaiser teaches English at Jefferson State Community College Shelby Campus.