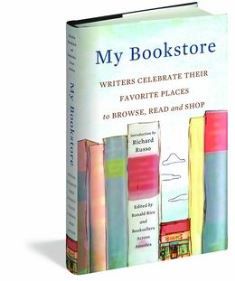 By Ronald Rice and Booksellers Across America, ed.
Introduction by Richard Russo
Illustrations by Leif Parsons
Black Dog & Leventhal Publishers, Inc., 2012
$23.95, Hardcover
Nonfiction
Reviewed by Don Noble
There is a wave of justified anxiety moving among the bookstore owners and patrons of America; the number of independent bookstores has been declining steadily since the 1990s.
There has been a slight up-tick lately, from 1,400 members of the Booksellers Association in 2009 to 1,900 in 2011, but the opening of a new independent is news. The December 2012 issue of The Atlantic Monthly carries an article by the novelist Ann Patchett about her new store, Parnassus Books, in Nashville. The Athens of the South had no bookstore at all. Borders had closed and Davis-Kidd was not profitable enough.
Why the decline in indies? The big box stores such as Books-A-Million and Barnes and Noble can exercise economy of scale; Amazon offers the convenience of online shopping and, these days, quick delivery. And e-books are quicker than that, magically instantaneous.
Some writers, like Larry Kane, even fault the big publishers who show a "definitive lack of courage" and demand "guaranteed winners": they promote already popular, best-selling writers.
Still, writers and many readers love independent bookstores. This volume gives eighty-four writers a chance to praise their personal favorite.
Make no mistake, eighty-four short essays on the same subject, "Why I Love My Favorite Bookstore," contain a lot of repetition. Some things come up in almost every essay. For example: The owners and staff are knowledgeable. They are voracious readers, versed in the classics and up on the latest.
In real stores, Pete Hamill says, writing of The Strand in New York, there can be "serendipity—that extraordinary sense of surprise and delight when you enter a bookstore in search of one book and discover another."
These fervent bookstore people hand-sell their merchandise. There are not only "Staff Picks" to consider, the staff seems to know the customer's name and his tastes and can rightly say, "Read this—you'll love it." This is not really matched by the Amazon algorithm that suggests, "Based on previous purchases you might like...."
And stores are welcoming. Lee Smith, who lives in Hillsborough, N.C., "the most literary small town in the South," with some thirty writers living there, says of Purple Crow Books: "[It's like] Cheers—we all want to be where somebody knows our name."
Independent stores know their customers well but can also keep their secrets. As Richard Howarth of Square Books in Oxford, declares emphatically: "We don't discuss our customer's purchases. It's nobody else's business if you bought The Communist Manifesto or Fifty Shades of Gray.
There are often easy chairs, quiet corners, unlimited browsing, sometimes an in-store cat, although, happily, several of the writers, poke fun at that frill. Sometimes there are cookies, often wine, coffee, or even full cafes. Many have a children's section–the birthplace of a lifetime passion.
The stores, especially the older ones, smell good to booklovers. We love the smell of paper, new or old, and ink, and books feel good in the hand. One can touch them, examine them, enjoy the cover art and the illustrations. "To judge the all-around quality of production," according to Ian Frazier, "…you must actually touch a book."
Writers love small stores because they carry new, unknown, and local authors and small press books and have book launches and readings and signings. Many of these stores seem to have four or five a week. The local patrons must be overwhelmed.
Sometimes the events exceed helpful and approach heroic. Explore Booksellers, in Aspen, had an evening to celebrate and support Salman Rushdie less than a month after the fatwa was decreed on his life.
The Introduction to this book is by novelist Richard Russo, winner of the Pulitzer Prize for Empire Falls (2001), who has recently shown his support of book as art object by publishing a set of four short pieces, a novella and three stories, bound separately, each with a color print by his daughter Kate, in a beautiful boxed set. Titled Interventions, it is not available as an eBook.
The stores praised in these essays are located nationwide, of course; ten are in California, nine in Massachusetts, and seven in New York.
But two are in Alabama. Rick Bragg writes of the singular Jake Reiss and his unusual store, The Alabama Booksmith in Homewood. He also says, "There are no cats here and I am so grateful for this I could just bust."
Even more than most independents, the Booksmith relies heavily on reading and signing events and a thriving, nationwide, signed first-edition club. Jake Reiss has found a way to sell books!
Fannie Flagg writes warmly of Page & Palette in Fairhope, which does have a large and faithful browsing crowd. Flagg quotes the mayor's wife as saying, "Why, I wouldn't even consider reading a book unless Page & Palette recommended it!"
For a state to have only two stores represented in this volume may seem paltry; it's not. Arkansas is represented only by That Bookstore in Blytheville—although John Grisham is its advocate. Arizona, Georgia, Iowa, Idaho, Illinois, Kansas, Kentucky, Louisiana, Maine, Missouri, New Hampshire, Ohio, Oregon (but it's Powell's!), Pennsylvania, Rhode Island, South Carolina, Tennessee, Texas, and Utah are also represented by only one.
The essays, all written by published authors, are highly indicative of where writers choose to live. Many choose North Carolina, but The Old North State has not always been so welcoming to writers and thinkers. Novelist Jill McCorkle, writing of her favorite store, Flyleaf Books, in Chapel Hill, remembers when Senator Jesse Helms suggested that "Chapel Hill, site of the first public university in the United States … be fenced off and called the state zoo."
Alabamian Jack Pendarvis praises Square Books in Oxford, Mississippi, while Lemuria, in Jackson, is the favorite of Barry Moser. It ought to be; he fell in love with and married Emily, a staff member.
Needless to say, this volume is itself a piece of promotional genius. There are eighty-four stores in America that will feature it prominently, hand-sell it, and have signings by local authors. And every author has some kind of fans: mother, spouse, neighbors. This book will sell. March 2013
Don Noble is host of the Alabama Public Television literary interview show Bookmark and the editor of A State of Laughter: Comic Fiction from Alabama. This review was originally broadcast on Alabama Public Radio.