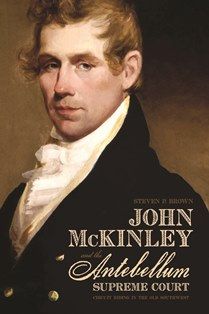 By Stephen P. Brown
The University of Alabama Press, 2012
$39.95, Hardcover & eBook
Nonfiction
Reviewed by Pam Kingsbury
Though many Alabamans may be familiar with John Archibald Campbell and Hugo Black's appointments to the Supreme Court, Alabama had a third, lesser known appointee, John McKinley.
McKinley moved his family to Florence, Alabama, in 1819 during "Alabama Fever"—the years following Andrew Jackson's removal of the Creek Indians when much of the land in the state was penned up for settlement. In 1817 McKinley, along with six other men, formed the Cypress Land Company, purchasing big blocks of land in the area that became Florence. It is a measure of McKinley's reputation and character that several of the men who served alongside him as trustees were equally well-known in the political and social circles of the time. Two of his Alabama- based partners were well known in both political and social circles of the time. (LeRoy Pope is remembered as a founding father of Huntsville, Alabama, and Thomas Bibb served as the second governor of Alabama. A third partner, James Jackson, had served as Andrew Jackson's agent in several land deals.)
McKinley's acumen, paired with his legal expertise and social connections, allowed him to achieve immense success is a very short time. He was elected to the state legislature three times, serving as both a representative and a senator, before becoming a Supreme Court Justice in 1837. His first four years as a justice were spent "circuit riding," presiding over the recently created Ninth Circuit, which covered the newly created south western frontier of Alabama, Arkansas, Louisiana, and Mississippi. His circuit, the greatest distance from Washington, D.C., forced him to travel the longest distances of any judge, dealing primarily with legal issues devoted to property claims.
Brown has given readers an informative work on the settlement of North Alabama, the legal issues, particularly in regard to property rights, and a sense of McKinley's life, both personal and public. His research includes local, regional, state, and national sources. The reproductions of maps, handbills, and photographs provide the reader with a sense of Alabama, then and now.
Stephen P. Brown is an associate professor of political science at Auburn University and author of Trumping Religion: The New Christian Right, the Free Speech Clause, and the Courts, which received the National Communication Association's Franklin S. Haiman Award for Distinguished Scholarship in Freedom of Expression. March 2013
Pam Kingsbury teaches at the University of North Alabama.